After establishing themselves as one of the most exciting new bands to come out of Scotland in recent years, Shambolics are set for a landmark moment in 2024, as they release their highly anticipated debut album.
'Dreams, Schemes & Young Teams' is set for release of February 16th via Scruff of the Neck Records, a highly regarded Manchester label and the driving force behind early success for The Reytons.
Alongside the announcement, Shambolics have released new single, Never Be Mine, as the countdown to February truly begins.
Vocalist & guitarist, Darren Forbes commented: "We wanted the songs here to be quite uplifting, including the ones that deal with social issues. It's like even though shit happens, it's going to be okay. It's about trying to find some hope in the bleakest of times, about finding an escape from the terrible situation young people currently find themselves in."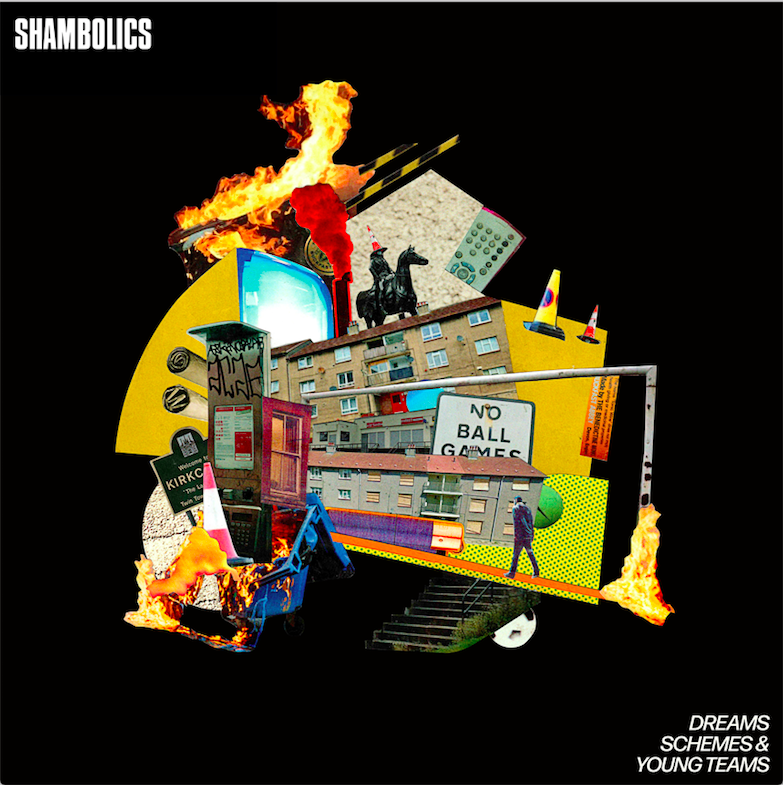 The debut record has been produced by Chris Marshall (Gerry Cinnamon) and features The View's Kyle Falconer, as the Shambolics stay firmly rooted in their native Scotland for their first full length album release.
Darren commented on the new single: "It's about a boy and a girl who meet each week, but they have no real ambitions to be in a relationship. They know they're playing one another but don't really want to say that out loud or admit it to one another – they're in it for the moment." 
'Dreams, Schemes & Young Teams' is now available to pre-order HERE or pre-save HERE. You can catch the band on their 2023 tour dates (listed below – along with the album tracklist).  
In addition to its digital release, physical formats include regular black vinyl, CD and cassette.
The band's official store exclusively offers a 'Ned Red' collection which compiles a red and black marble vinyl, a CD and a cassette into one package.  
SEPTEMBER TOUR DATES
28th – Glasgow, King Tut's (HEADLINE SHOW – SOLD-OUT) 
OCTOBER – SPECIAL GUESTS TO LITTLE MAN TATE 
12th – Newcastle, Riverside 
13th – Manchester, O2 Ritz 
15th – Glasgow, The Garage 
18th – Southampton, Engine Rooms 
19th – Nottingham, Rescue Rooms 
20th – Birmingham, O2 Institute 
21st – Sheffield, O2 Academy 
26th – London, O2 Academy Islington 
28th – Hull, The Welly 
DECEMBER – SPECIAL GUESTS TO THE VIEW 
13th – Edinburgh, O2 Academy 
14th – Kilmarnock, Grand Hall 
'Dreams, Schemes & Young Teams' tracklist: 
'Influencer' 
'Never Be Mine' 
'Attention' 
'Coming For You' 
'Daily Dosage' 
'Dreams, Schemes & Young Teams' 
'If You Want It' 
'Fooling You' 
'Universal Credit' 
'Everything You Should've Done' 
'Losing Your Mind' 
'Filth & Scum' 
…
Follow us on our socials:
"If you could go out for a drink with any three musicians, past or present, who would you choose and why?" – That's what we ask our guests on the Fantasy Pints Podcast! Seasons 1 & 2 are available now. You can check out all episodes on Spotify, Apple and YouTube, including interviews with DMA's, Clint Boon, Robbie Knox, The Wombats, Jamie Webster, Clinton Baptiste, Scheiffer Bates, Omid Djalili and plenty more!