One of the most exciting and innovative modern bands are heading to Manchester for a huge outdoor show, as Jungle today confirmed a headline date at Castlefield Bowl on Thursday 11th July 2024.
The UK production duo will perform as part of the annual "Sounds of the City" series, which has in the past welcomed the likes of Chic, Arcade Fire, and New Order to one of the city's finest venues.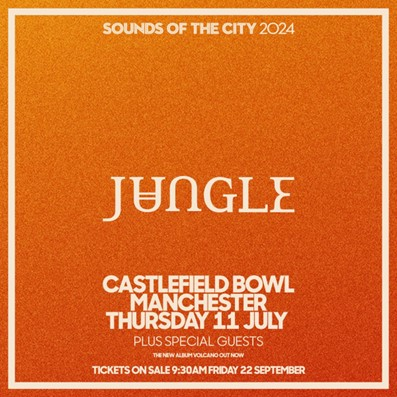 Jungle released their critically acclaimed fourth record, 'VOLCANO', alongside their first feature-length film, 'VOLCANO, The Motion Picture', last month, featuring recent singles, 'Candle Flame', 'Dominoes', 'I've Been In Love', and 'Back On 74'.
Their latest track, 'You Ain't No Celebrity', is out now, featuring iconic artist, Roots Manuva, and exploring themes of fame, relationships, and personal identity.
Their live shows have garnered huge praise over the years, with the one and only Noel Gallagher describing them as his favourite band in a recent interview.
Tickets for what promises to be a special show next year go on sale THIS FRIDAY at 9:30am from www.gigsandtours.com / www.ticketmaster.co.uk.
…
Follow us on our socials:
"If you could go out for a drink with any three musicians, past or present, who would you choose and why?" – That's what we ask our guests on the Fantasy Pints Podcast! Seasons 1 & 2 are available now. You can check out all episodes on Spotify, Apple and YouTube, including interviews with DMA's, Clint Boon, Robbie Knox, The Wombats, Jamie Webster, Clinton Baptiste, Scheiffer Bates, Omid Djalili and plenty more!