Indie's best kept secret, 110 Above Festival is just around the corner, and the 2022 lineup showcases some of the UK's top musical talent, including plenty of exciting names tipped to be the next big thing. Taking place at Gopsall Hall Farm in Leicestershire, the festival offers something that little bit different for music lovers, and we're on hand to tell you what's in store this year. This article will run through the three headliners, along with our "Top 5 Unmissable Acts", what to expect from the festival itself and information on how to get tickets!
The big news is at the top of the lineup, with 110 Above announcing Everything Everything, a band at the top of their game following the release of stellar album "Raw Data Feel", to headline the main stage. They will be joined by Sea Girls, who have climbed their way up the festival poster after playing a smaller slot here in the past. They will bring their catchy indie pop to the Elizabeth Stage, including tracks from their recent album, "Homesick". The final headliner is The Amazons, a band so good in 2021 that they are returning to do it all again this year. Their set last year was their first ever festival headline slot and they even played on for a while after the end, reluctant to leave the stage. It promises to be three strong headline performances!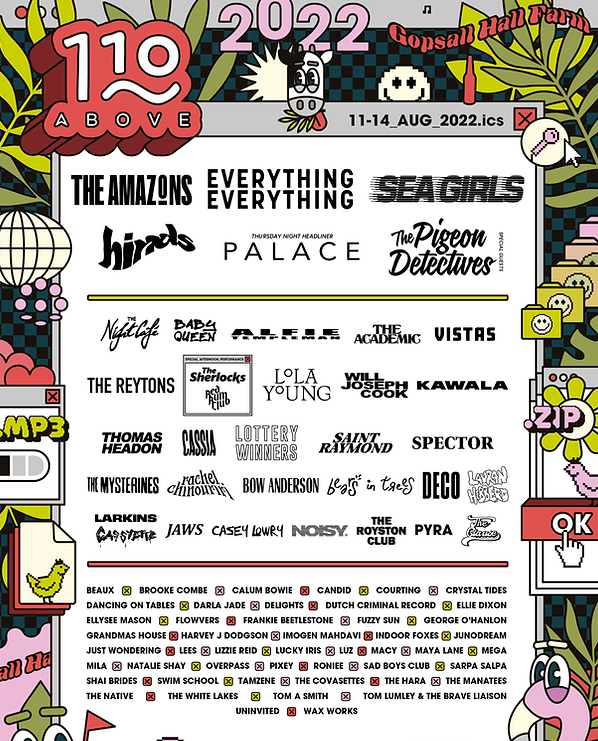 Now to our "Top 5 Unmissable Acts". We'll start with Tom A Smith, and what a 12 month he's had. Since performing two stand-out sets in 2021, Tom has recruited a full band and released several singles that have gone down a storm with fans online. With guests slots with Elton John, Miles Kane and Gang of Youths under his belt, this year's performance promises to be a landmark set for the talented artist from Sunderland.
Next up, 110 Above favourites, Deco. In 2021, the indie pop group performed a series of covers and mash-ups as part of a secret set in the Gopsall Inn, before taking to the main stage to perform their catchy hits in front of a packed crowd. More of the same this year we hope, and certainly worth adding to your schedules. They'll be sure to win some new fans at 110 Above!
Our third and fourth picks are Brooke Combe and The Royston Club. Brooke is selling out shows all over the country in her recently announced tour, with a growing reputation off the back of acclaimed singles and strong live performances. You can be sure she'll be climbing the festival lineup posters next year. The Royston Club are another band revelling in the spotlight, with singles such as "Mrs Narcissistic" and "Believe It Or Not" catching the attention of many and establishing themselves as one of the UK's most hotly tipped new bands.
And finally, what about a noughties indie throwback in the shape of The Pigeon Detectives? They've been on the festival circuit for many years now and still draw in the big crowds at some of the UK's larger festivals. So condense that into the special world of 110 Above Festival and it promises to be an unrivaled atmosphere for their set!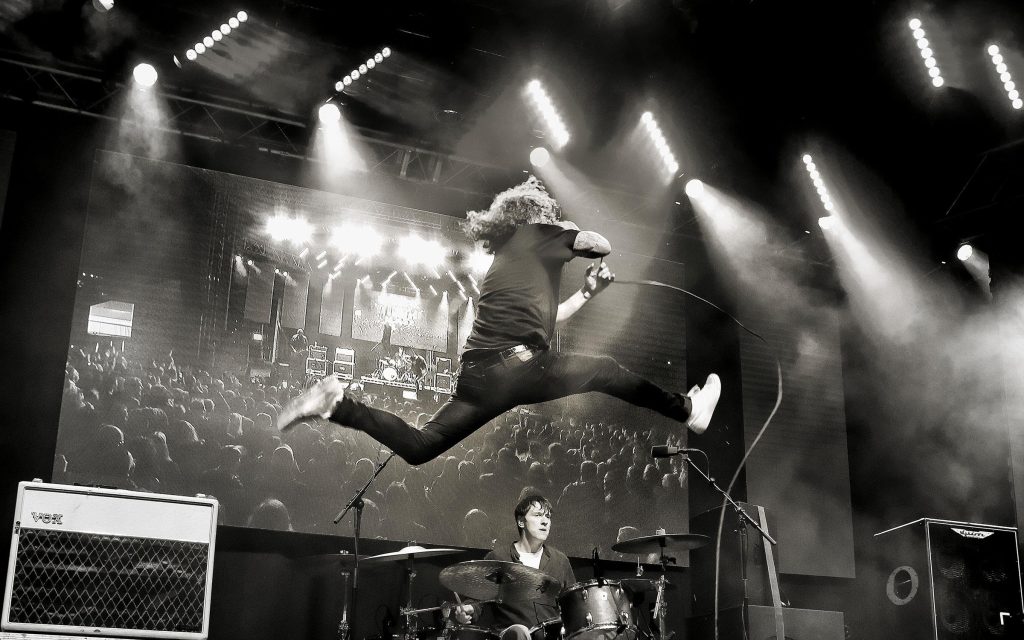 So what can we expect from andthe festival itself? Regarded as 'indie's best kept secret', 110 Above Festival has built its reputation as an independent, unique and intimate setting for music lovers to gather together. There are four contrasting stages of music – The Commune Stage, The Gopsall Inn, Old Town Hall, and the newly crowned main stage, The Elizabeth Stage. The latter made its debut last year as a larger outdoor space and provides the perfect setting to host the headliners in 2022.
You'll find a variety of food and drink options outside of the Old Town Hall, where many people gather to soak up the sun (fingers crossed) and chill out. By the end of the festival, you'll feel like you know everybody there. It's a great community feeling and friendly atmosphere, suitable for all ages and families.
We promise a trip to Gopsall Hall Farm won't disappoint. You can still get your hands on tickets for this year. Head to https://www.110above.com/tickets. Read our Q&A with the founder and curator of the festival here – https://www.northernchorus.co.uk/2022/06/28/qa-with-110-above-festival/.
…
Follow us on our socials:
"If you could go out for a drink with any three musicians, past or present, who would you choose and why?" – That's what we ask our guests on the Fantasy Pints Podcast! Season 2 is underway now, with the latest episode below. You can check out all episodes on Spotify, Apple and YouTube, including interviews with DMA's, The Wombats, Jamie Webster, Phoenix Nights' psychic Clinton Baptiste, impressionist Scheiffer Bates and plenty more!