Festival is season is underway, and with the return of Glastonbury now done and dusted for 2022, it's time to look forward to what the rest of the summer has to offer. One festival standing out from the crowd, with a wonderfully unique experience for music lovers, is 110 Above at Gopsall Hall Farm, Leicestershire.
Loved by locals as well as festival goers from afar, 110 Above is an intimate four-day event showcasing some of the finest up and coming stars of UK music. We caught up with founder and curator, Michael Lain, who discussed what to expect in August, the struggles for festivals during the pandemic, what makes 110 so special and plenty more!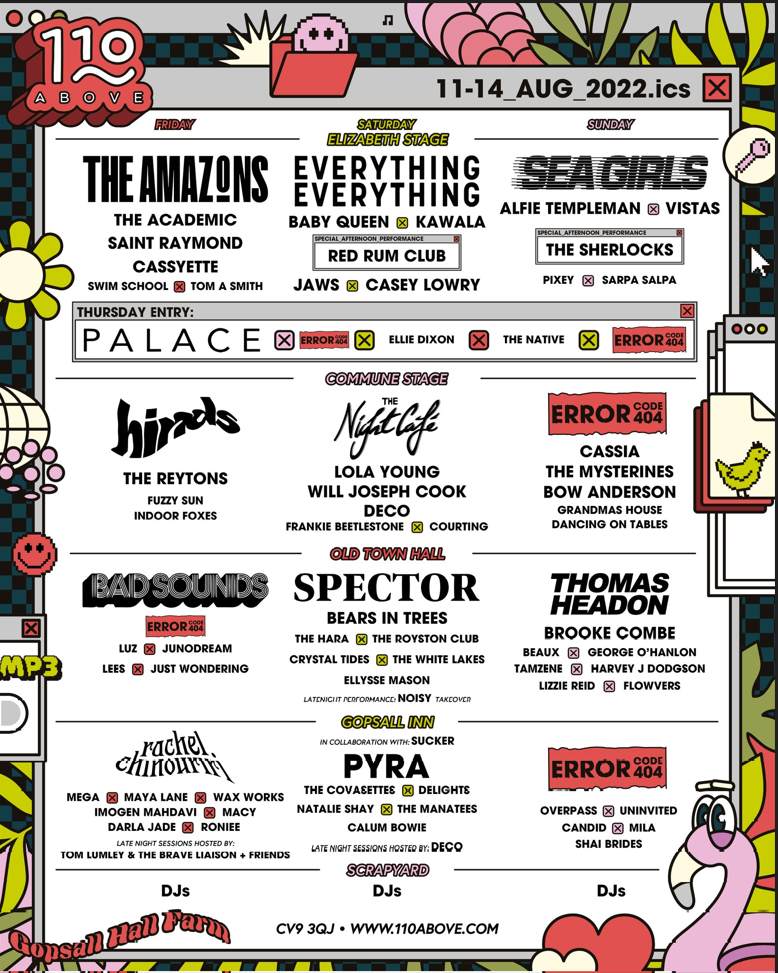 NC: How difficult was it as an organiser of the festival during the pandemic? Do you feel the industry had enough support?
Michael: "It was really really tough. In 2020 when we had to cancel we seriously questioned whether we would go ahead and plan for 2021. We put in place a request for some crowdfunding  and were clear that if we failed to hit our target then we would pull the plug. Our supporters were amazing, they smashed our target and gave us the clear motivation to start planning for 2021. We were ever hopeful that we would be able to open the gates however things kept changing. The hardest part was trying to plan for the unknown. There was a lot of uncertainty of what the regulations would be and so we were forever planning for different scenarios. We got an awful lot of support from the Association of Independent Festivals who were very closely working with the government acting as the voice for independent smaller festivals and influencing on our behalf. They were able to keep us informed of government thinking which helped us greatly in our planning. The support given to the industry from the Cultural Recovery Fund enabled many festivals to get through 2020 and 2021 and be able to go on in 2022."
NC: Can you tell us a bit about the history of 110 Above? When and why it was created?
Michael: "110 Above began as a small campfire gathering for my birthday (2009). Each year we tried to add or enhance the event which ultimately led it to move from a group of friends with a portable speaker to where it is now with four intimate stages hosting over 80 live acts and artists. Its growth has not been straightforward and has very much been a project of passion with initially my spare time thrown into it and now the time of the wider organising group."
NC: Do you think the intimacy of the festival is what makes it so special? And are there any plans to expand?
Michael: "The intimacy of the festival is a key ingredient of what makes it special. Other things like the friendliness of the crowd and having a positively minded security team have a huge influence on building a unique culture that makes it feel a great, happy and exciting place to be. We would like to expand some more but expansion will be gradual, we don't want to lose the unique atmosphere of 110 Above. We are constantly looking at different things and trying to improve and last year we introduced the 4th stage that allowed us to have an increased capacity without changing the experience too much."
NC: We noticed a lot of bands watching other bands, and artists mingling with fans etc. What is it about 110 that you feel creates this friendly atmosphere?
Michael: "The feedback from the acts is that 110 Above is a very relaxed place to play. The backstage team work really hard to make things go smoothly and see their role as trying to create an environment that the acts can have a great time on and off stage. That fact that the line up is consistently strong and the acts are music lovers in their own right means that they take the opportunity to either meet up and watch old friends or catch someone new."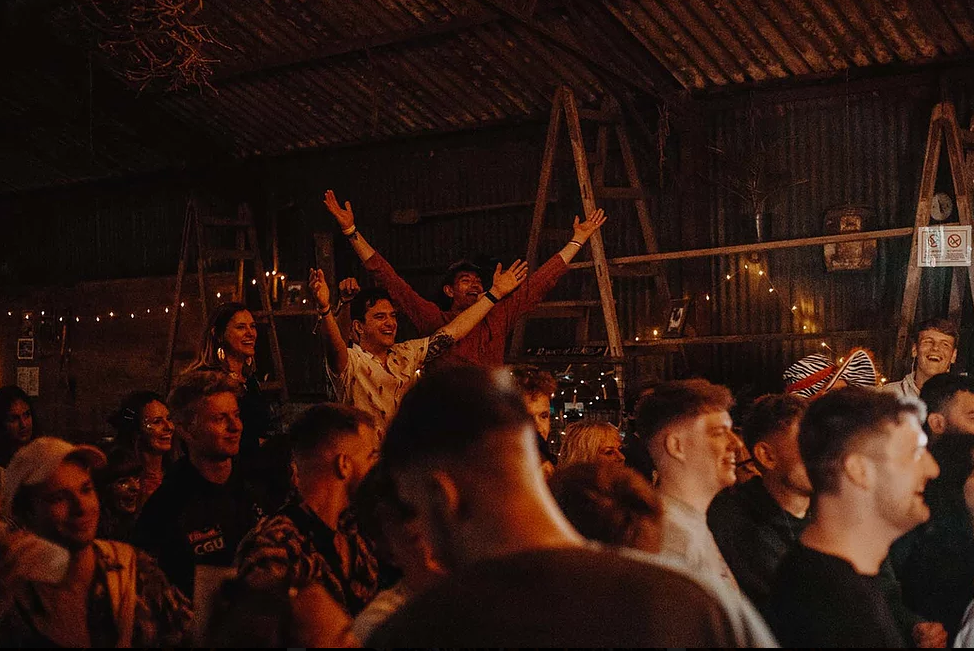 NC: Who are you most excited to see at Gopsall Hall Farm in 2022?
Michael: "Mmmmmmmmm…  too hard a question…"
NC: 110 Above has a reputation as a breeding ground for some of the UK's next big artists. What are some of your favourite success stories from up-and-coming artists performing at 110 Above and going on to achieve great things?
Michael: "One of our key principles is to give talent the opportunities to get festival experience, be that as an act or as part of our front and back of house teams. This year we will have acts playing their first festival and students from the University of Gloucester and Coventry College gaining vital festival experience for their CVs working at their first festivals. Mahalia is probably the act that has gone on to the greatest success being a MOBO award winner and being nominated for Brit Awards and a Grammy. It has also been great to welcome back acts as headliners like Sundara Karma last year and Sea Girls this year having seen them at the festival in the early stages of their career. We often see acts who have played here then get nominated for the annual "BBC Sounds Of" award like Easy Life, Joy Crookes, Lola Young, Alfie Templeman and Babyqueen. It's really great to see their progression."
NC: The three headliners last year were all headlining a festival for the first time. Do you see 110 as an important stepping stone for creating the UK's next major festival headliners?
Michael: "We see ourselves, like many of the smaller festivals, as a vital part of the whole festival eco-system. The same as the smaller venues are for the live music industry. Acts need the chance to gain experience at all levels and learn their craft. It is great to see how serious the acts are about their first headline slot. Not only is it a longer set but the whole timetable of the day is very different to the ones they are used to and they have a bigger crew to work with."
NC: What is your favourite ever 110 Above performance?
Michael: "There have been many! I spend a lot of my time running around working during the event so may not be best placed! But when I have had a moment, I must say The Amazons were incredible last year but there are so many surprises where the audience are blown away by someone."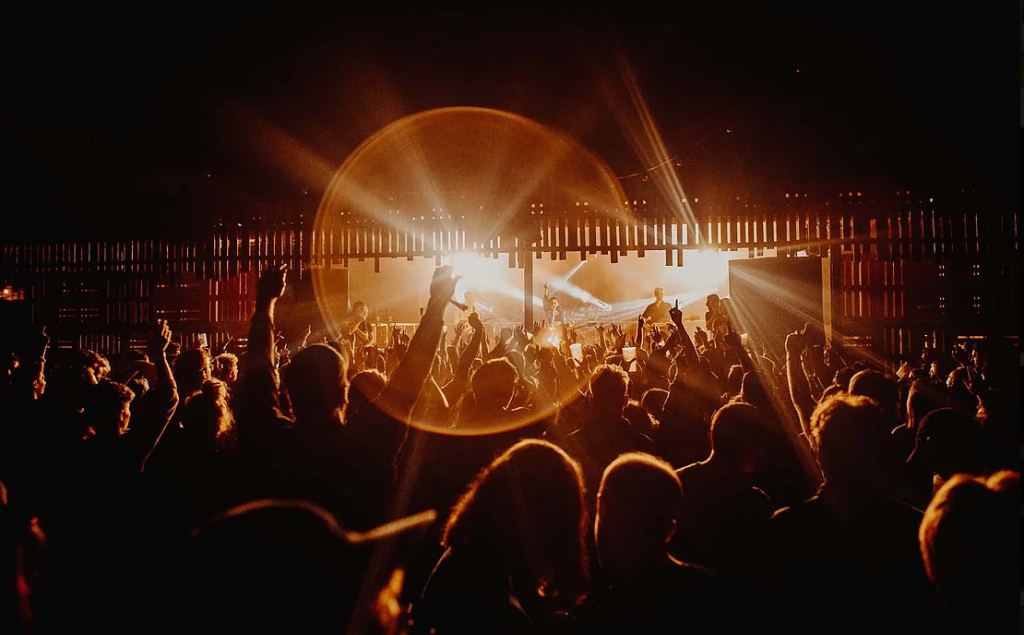 NC: Who is your dream 110 Above Festival headliner?
Michael: "Now that's confidential! We don't like 110 to be purely about headliners it is about the lineup as a whole so it wouldn't be fair giving one name."
NC: The metal cups from 2021 were a great idea, both in terms of sustainability and also providing festival-goers with a souvenir. What other innovative/sustainable ideas do you have for the festival?
Michael: "It's a sign of the times that we aren't able to have more metal cups this year. They were manufactured in Birmingham from recycled metal. The costs of raw material and manufacture have increased so much that the company has had to stop production. This year our food traders have all signed up to not only not using single use plastic, except for water bottles, but also using compostable packaging which is a step up from recyclable packaging. We will be having a team on site this year observing everything and identifying what steps we can take to increase our sustainability efforts. It would help us and every other festival if the government reduced tax for Bio Diesel."
NC: Can you talk us through the decision to make the Elizabeth Stage the main stage for 2022?
Michael: "The idea to have a stage in the field opposite the common had been around for a while. When we started looking at how we could minimise the risk around any potential Covid restrictions for last year and the possibility that Old Town Hall wouldn't be suitable we decided to go ahead with it. It worked so well and was so popular with the crowd that we have decided to make it the headline stage for this year."
NC: Are there any other changes we can expect from the 2022 festival?
Michael: "You will have to wait and see. We try and make improvements year on year and this year in no exception."
NC: And finally, any clues to artists yet to be announced?
Michael: "All will be revealed this week!"
110 Above Festival takes place from 11th to 14th August 2022. More names will be announced on Friday. Tickets are available HERE. Check out our review of 110 Above Festival 2021 HERE.
…
Follow us on our socials:
"If you could go out for a drink with any three musicians, past or present, who would you choose and why?" – That's what we ask our guests on the Fantasy Pints Podcast! Season 2 is underway now, with the latest episode below. You can check out all episodes on Spotify, Apple and YouTube, including interviews with DMA's, The Wombats, Jamie Webster, Phoenix Nights' psychic Clinton Baptiste, impressionist Scheiffer Bates and plenty more!