Liverpool's indie favourites, Circa Waves have announced a special run of UK live dates, where they will donate a portion of the profits from each gig to local foodbanks.
The foodbank will be specifically selected from the local area for each venue, as the band perform tracks from their latest album, Never Going Under, and of course the hits from their back catalogue.
The tour will see Circa Waves visiting intimate music venues in eight UK towns and cities, with the band commenting: "We're so happy to be supporting food banks on our next tour. In this current climate where the cost of living crisis is hitting everyone we know that being able to feed your family is no longer a given.
"We will be playing a handful of small intimate shows with a percentage of profits going to local food banks in each area. Can't wait to see you there."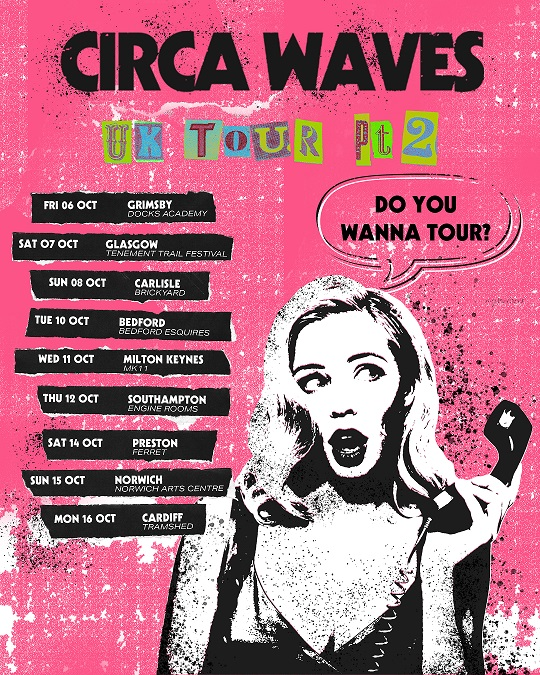 The full list of 2023 live dates are below, with the respective food banks highlighted for each venue.
Tickets go on sale THIS FRIDAY at 10am, and will be available here.
Fri 06 Oct – Docks Academy, Grimsby for Feed The Community
Sat 07 Oct – Tenement Trail Festival, Glasgow
Sun 08 Oct – Brickyard, Carlisle for Carlisle Foodbank
Tue 10 Oct – Esquires, Bedford for Bedford Foodbank
Wed 11 Oct – MK11, Milton Keynes for The MK Foodbank
Thu 12 Oct – Engine Rooms, Southampton for Southampton City Mission
Sat 14 Oct – Ferret, Preston for Noor Foodbank
Sun 15 Oct – Arts Centre, Norwich for Norwich Foodbank
Mon 16 Oct – Tramshed, Cardiff for Cardiff Foodbank
…
Follow us on our socials:
"If you could go out for a drink with any three musicians, past or present, who would you choose and why?" – That's what we ask our guests on the Fantasy Pints Podcast! Seasons 1 & 2 are available now. You can check out all episodes on Spotify, Apple and YouTube, including interviews with DMA's, Clint Boon, Robbie Knox, The Wombats, Jamie Webster, Clinton Baptiste, Miles Kane, Omid Djalili and plenty more!