Following a successful 2021 which saw Sundara Karma, The Amazons and Sports Team headline an impressive lineup, the wonderfully unique and intimate 110 Above Festival has confirmed the first names for 2022. The 12th edition of the Leicestershire festival will be headlined by innovative art rock band, Everything Everything, and will take place between 11th and 14th August 2022.
Also performing next year are Cassia, The Sherlocks and Red Rum Club, along with returning artists such as Vistas, Baby Queen, Kawala and Alfie Templeman. The 2022 edition will see The Elizabeth Stage promoted to the festival's main stage, after debuting in 2021 and hosting The Snuts, Lauran Hibberd, Zuzu and more.
The festival has garnered a reputation over the years for championing new music and displaying some of the UK's most exciting up and coming bands and artists. Some of those names in the first wave for 2022 include the returning Tom A Smith, fresh from the release of his debut single 'Wolves', as well as Brooke Combe, Casey Lowry and Pixey.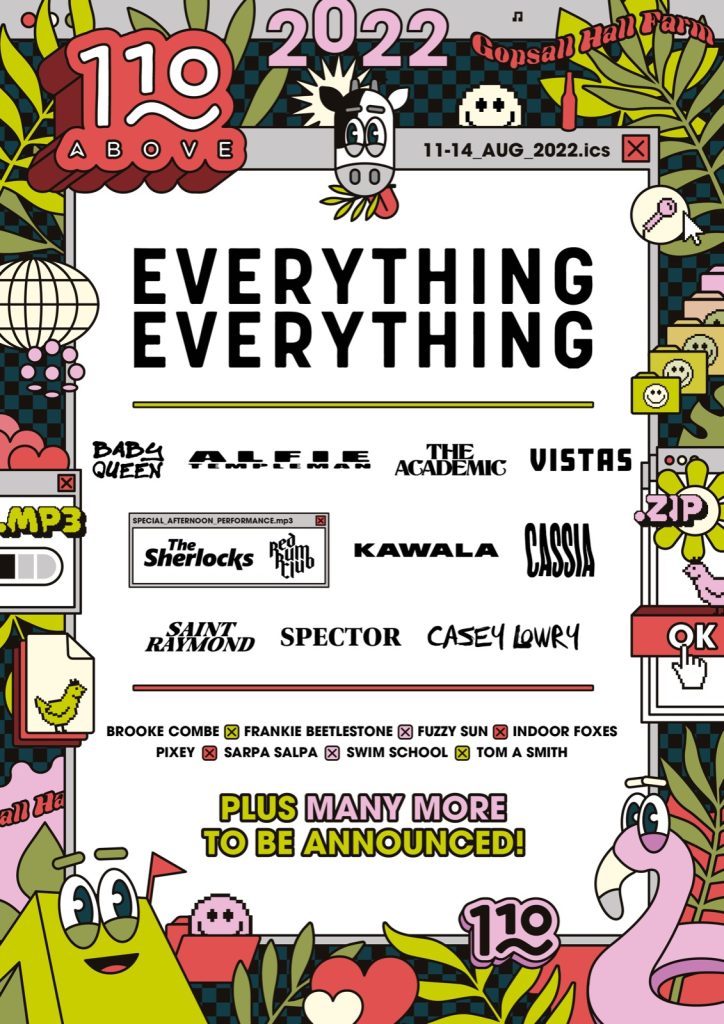 Festival Founder and Curator, Michael Lain commented: "After the great feedback from last year the pressure is on to provide yet another fantastic line up with great acts right throughout every day on each of the 4 stages. I am really excited by the acts we are announcing today. We look forward to revealing even more great acts in the new year not only for the main festival but also for our "Intimate Thursday" on 11th August "
Earlybird tickets for both the main festival and Intimate Thursday are available here – https://www.110above.com/tickets
…
Follow us on our socials:
…
If you haven't already, make sure you check out our Fantasy Pints Podcast, where we interview a different guest each week and ask the one common question – "if you could go for a drink with any three musicians past or present, who would you choose any why?" Check out the latest episode with DMA's on Spotify, Apple, YouTube & more!