Back in 2017, The Sherlocks' debut album 'Live For The Moment' propelled the South Yorkshire four-piece into becoming one of the UK's most hotly tipped new indie bands. Since then, the only way has been up, in a career that has since seen the release of stellar follow-up 'Under Your Sky' (2019), festival headline slots, unforgettable gigs at the likes of Manchester's Victoria Warehouse and touring Europe with musical icons such as Liam Gallagher and Kings of Leon.
In 2020 however, The Sherlocks hit their toughest test yet. Just before the world headed into lockdown, Josh and Andy Davidson decided the time was right to step away from the band. But The Sherlocks story was never going to end there, as armed with strong new material, the Crook brothers (Kiaran and Brandon) had their sights set on the band's future and began the search for two new band members.
Now, with new additions Trent Jackson and Alex Procter, The Sherlocks have hit the ground running in 2021 with the release of stand-out singles 'End of the Earth', 'Falling' and the latest 'City Lights'. We spoke to frontman Kiaran Crook about the new band lineup, upcoming third album 'World I Understand', the 2021 intimate UK tour and plenty more!

NC: You're back with two new band members, how are things progressing and do you feel the two new additions have positively influenced The Sherlocks on the third album?
Kiaran: "Yeah it's definitely been a step forward. After what has been a tough time, it was important that when we came back, we came back with a bang. With Trent and Alex stepping in, people often ask if they've added anything and they definitely have. When we made the album in July, they both stepped up their game, as did myself and Brandon as a result. It wasn't until we got into the studio with them and heard their opinions on stuff that we were able to fully appreciate the benefits they were going to bring to the band. Prior to going down to Rockfield for three weeks, the four of us literally had three practice sessions, so as well as making the album it was essentially when we were getting to know each other properly for the first time. But it's definitely a positive step, they're good lads and they're good at playing their instruments which is obviously the most important thing."
NC: There has been an evident progression in sound with the new singles, is that something that was always planned or something that happened naturally with new band members?
Kiaran: "I think that's something that just happened naturally. From our first album to our second, we changed the sound slightly, but we've heard it a lot since releasing the new tracks. It's hard to pinpoint why the sound has changed from inside the bubble, but from what I've been told it's a step forward in sound which means a lot. The only conscious effort we made with it was to recreate the energy we had on the first album, because I thought we did a good job of capturing four lads in a room having fun. And we're a young guitar band so we just wanted that energy back with this album."
NC: Do you feel a pressure to innovate with your music as a modern guitar band?
Kiaran: "I just write the tunes and whatever comes out, comes out. But as far as recording goes, that's the only bit that I feel requires a conscious decision. Looking back on what we did with the second album, as much as I like it, I do think we took a notch off our original sound. The songs this time were lending themselves to a certain way of recording. I'd say Falling is a blueprint for the new album in terms of what to expect. There's the one slow song but then it's just energy – banger after banger. That's why I think we'll be playing a lot of the stuff from this record live. It naturally lends itself to the live shows."
NC: And you must be pleased with the reception so far? As you mentioned earlier the phrase 'back with a bang', it seems to be quite fitting of The Sherlocks return, which must be particularly reassuring with the added risk of changing the band lineup?
Kiaran: "Yeah it's been great. Like you say, it's risky changing half your band, but if you're me or Brandon, what do you do? Josh and Andy wanting to leave the band is fine, we weren't going to force them to stay. Them wanting to move on and do something else after being in a band for over 10 years is understandable, so me and Brandon fully respect that. They were great lads as well. But not for one second did we ever think about splitting up and in a matter of days, we started working to get back to where we needed to be. Trent and Alex have come in and we're sitting on our strongest album yet, so it gives us an added bit of confidence coming back knowing that the songs are good."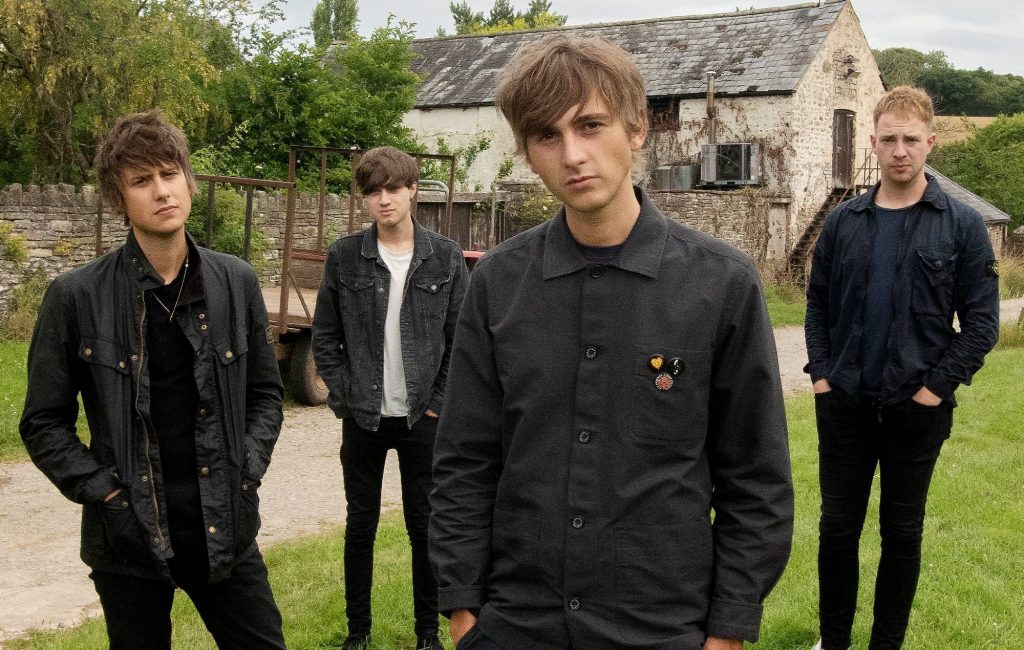 NC: The new album comes out in November, what was it like preparing it under the circumstances of a pandemic?
Kiaran: "It was insane to be honest with you. We were at a level where we were playing decent venues and when something like that happens, I think a lot of bands wanted to settle down and take a year off. We're not one of those bands who are happy to do that, we needed a new guitar player, a new bass player, and to crack on with the new album. A small window came up when we could go to Rockfield to record the album, so it went from me teaching Trent and Alex the old tunes, to us going straight into recording the third album. It seemed like a massive gamble but I had a weird feeling that the hardest part would be getting the four of us down there. And I was right because when recording started it all just fell into place."
NC: Rockfield Studios is quite an iconic place in music, what did it mean to be able to record there, was this the first time?
Kiaran: "Second time, we did our first album there. But there are two studios down at Rockfield – the Quadrangle where we did our first album, some massive artists have recorded there like Queen and Manic Street Preachers. The studio across from that is called the Coach House, where we recorded this time, that's where The Stone Roses and Oasis went. It's probably my favourite studio, it's a mad place. We knew the history and what's gone on there and there was a documentary on TV at the time we were there. We took an early night from recording and just had a few drinks watching the documentary together. We learnt that there were even more bands and legendary albums recorded here than we first thought, so it is a great place to be."
NC: Are there any songs on the album you're particularly excited for people to hear?
Kiaran: "I'm excited for people to hear the whole album. With our three albums I've never gone away and wrote it and then came back, it's more like a constant conveyor belt of songs being written. There's one song on this album that's one of our oldest tunes, we've had it since way before the first album, but for some reason that song wasn't what we were after at the time. On this album there are 10 songs, 9 songs had been agreed for the record and it was between two others that we were going to record and choose from. But once we'd recorded the old song again we didn't bother because we knew it was right for the album. I never disliked it when I first wrote it but I felt like it needed more of a chorus, so once I wrote that it became one of my favourite songs on the album. This is our shortest record so far but I truly believe it has our strongest songs on there."
NC: Another thing you've announced is the 'Keep Our Independent Venues Alive' tour, can you tell us a bit about what this means to you to be able to support these venues?
Kiaran: "For us, it was a no-brainer. People were rightly concerned about the bands and crews who couldn't gig, but it was the same for these venues that couldn't open and the people working there. We always knew when things got pretty bad, the last thing that would come back is gigs. Our job is literally playing in front of crowds of people. Everyone took a hit so we wanted to raise money and do our bit rather than rushing back into the bigger venues. It was also about raising awareness in the hope that other people would follow suit in support of grassroots music venues, which so many people have done. On top of that, we've got independent aritsts from each area supporting on each night. So it's gonna be good, I'm really looking forward to it!"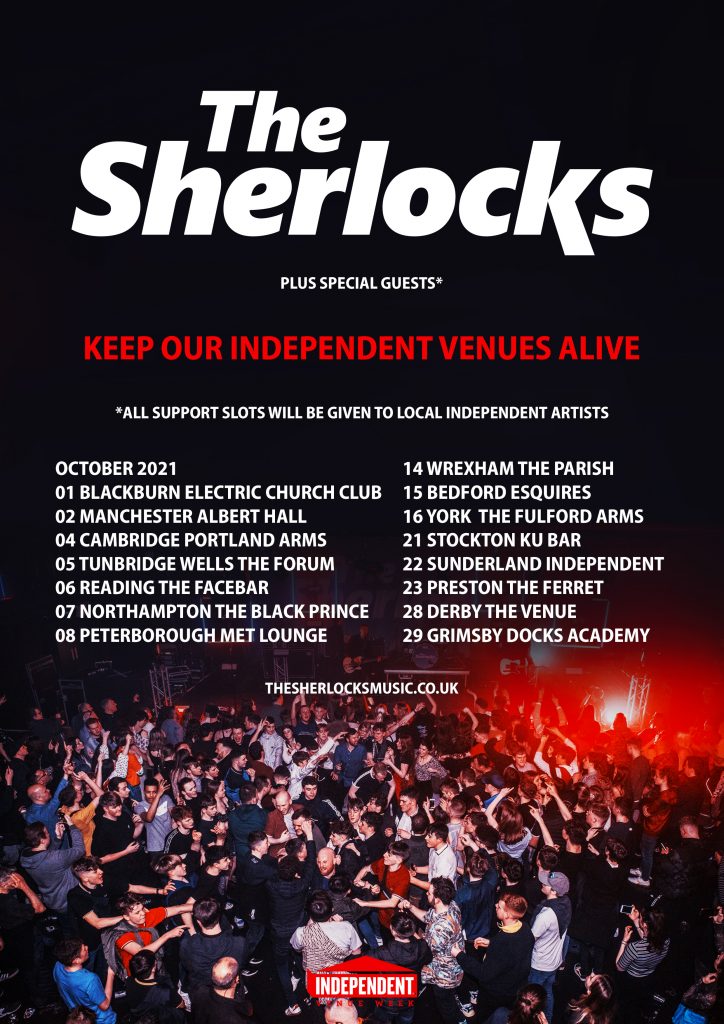 NC: I imagine it's also nice to play these gigs again in venues you might not play at in the future, but had an influence on the band coming through?
Kiaran: "Yeah it'll be good to get back in those sweatbox venues, 100-150 capacity where we started out. It takes something like this to happen for you to step back and start thinking of fresh ideas and what we can do differently. We've always been one of those bands who like helping each other out, we're pretty old school like that trying to carry on the tradition. If there are good bands out there not quite getting the audience, we want to embrace them and try to give people that leg up. It's something you seem to see less of these days."
NC: You've been back out playing festivals, what has that been like? Have you had to blow away the cobwebs or has it been smooth sailing?
Kiaran: "We've done about six gigs back, first one back was Tramlines main stage. It's all ran pretty smoothly, but everyone's understandably rusty, not just the bands playing but all the crew too. We played Scarborough Open Air Theatre with Keane which was class, it reminded me of Castlefield Bowl but bigger. We did a secret set at Leeds too, the owner Melvin asked us to do that which was nice. It was also great to see bands for ourselves at the festival, we don't get to do that much. We saw Sam Fender, he sounded class. It was a great weekend!"
NC: So what can we expect from The Sherlocks in the near future, other than the album and intimate tour?
Kiaran: "We're looking forward to getting another single out there and then the focus is on next year, maybe going on a full album tour. We've never felt so strongly about an album so we just want to get it out there. We're so appreciative of the support from fans both new and old and we can't wait for people to hear it!"
'World I Understand', the new album from The Sherlocks is out November 19th! Head to https://www.thesherlocksmusic.co.uk/ for all the info including ticket details for the upcoming tour. Here is a clip from the interview and the latest single 'City Lights'.
Follow us on our socials:
…
If you haven't already, make sure you check out our Fantasy Pints Podcast, where we interview a different guest each week and ask the one common question – "if you could go for a drink with any three musicians past or present, who would you choose any why?" Latest episode below!