Festival season is in full swing, and our attentions are now turning to one of our favourites in the UK music calendar, as 110 Above Festival returns to Gopsall Hall Farm, Leicestershire, for its highly anticipated "OTHR" edition.
Headlined by Circa Waves, Jack Garratt, The Mysterines, and Crawlers, the 110 Above Presents: OTHR Festival is by no means a "stripped back" version of the traditional 110 Above, and more a re-imagination of this wonderfully unique and intimate festival attended religiously by music lovers around the country.
The festival will take place from 10th-13th August, and with just a few weeks to go we caught up with Michael Lain, the founder and curator of 110 Above Festival.
We discuss what to expect from the "OTHR Festival", along with the headliners, up and coming artists to keep an eye out for, the return of some 110 fan favourites and plenty more.
NC: You're back with a new brand this year in the shape of OTHR Festival, what can we expect in comparison to previous years?
ML: "110 Above Presents: OTHR has basically become 110 Above Festival because of the strength of the lineup. The original vision is not quite how it has landed. We were originally thinking of making the artists slightly more electronic. We have Jack Garratt, but we then defaulted into our traditional lineup. Maybe it was subconscious, maybe it was pressure, I don't know, but we're happy with how the lineup is looking."
NC: Was there ever a worry that too much change might put off a core festival audience?
ML: "Yes we have a nice core so that was always a worry, but we'd never have took the project so far that it became disenfranchised. But also the people who come to 110 aren't just pure indie, they are into new music and that can be from a wide range of genres."
NC: How does the layout of the festival compare to previous 110 Above Festivals?
ML: "I didn't want this to be seen as stripped back, more re-imagined. Festivals change all the time and I just wanted to be transparent about it. The last thing we wanted was for people to turn up wondering where certain stages where. The main change is that the Commune Stage isn't there, but we are more than making up for it with everything else going on. Platform 110 is replacing The Scrapyard, and we want this to be a lot more inviting rather than just a night time spot. This will now have a bar and be a normal stage throughout the day, it was under-utilised in the past but it will be an important feature this year. We've also got the Meadow area, Gopsall Inn, Old Town Hall, Karaoke, the Shop, and a Garage. We know not everyone will be into indie or new music, so we are placing more emphasis on appealing to all tastes with the smaller spaces, with Garage music in the Garage, House music elsewhere, just a multitude of genres across the festival. We don't just want an amazing lineup, we want new experiences for people."
NC: Let's discuss the headliners, firstly Circa Waves and Jack Garratt, what will they bring to the OTHR edition?
ML: "Circa Waves have played before and this was a bit of a statement booking, we wanted to show that OTHR would still have a strong lineup. Some people were thinking it would be like 10 years ago where we booked much smaller bands, so Circa Waves felt a good statement piece to get in the bag to please the 110 faithful. Jack Garratt was one of those that the email has gone out to the agent since he won Critics' Choice and he's never been available, but this year it has finally come true. A bit of a personal favourite and he straddles the genres so it was a good pick for OTHR. We wanted somebody like Jack Garratt or Georgia who fans of indie would appreciate too, we were never going down the Armin van Buuren route!"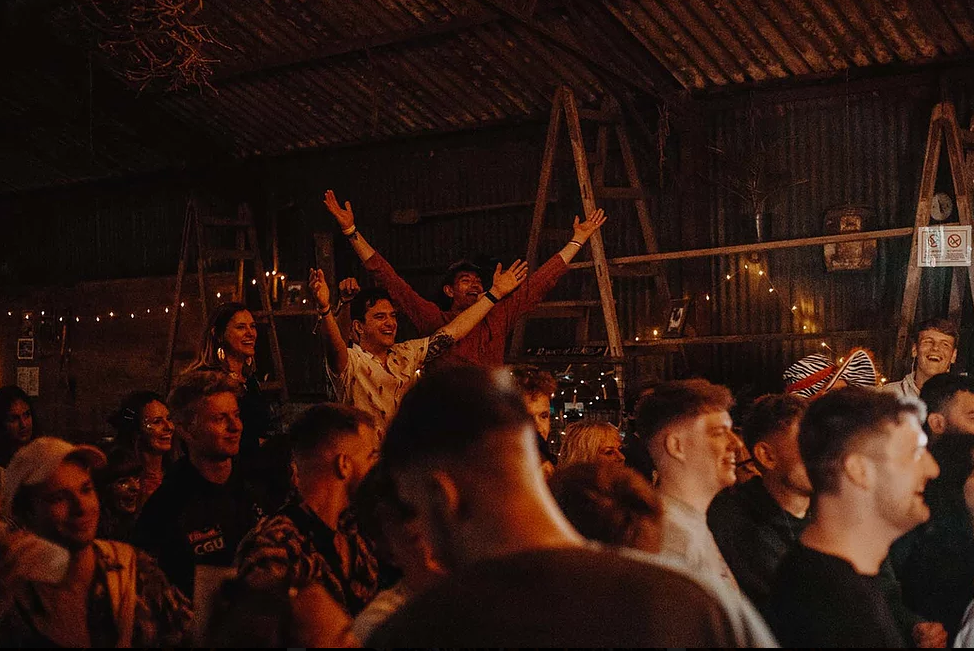 NC: The Mysterines and Crawlers will co-headline the festival, was this a nod to both of their recent rises with well-deserved headline slots?
ML: "Yes for sure. The Mysterines couldn't make it last year but they played the Gopsall Inn in 2021 and it was amazing because it was so obvious that they should have been on another stage, but that's the beauty of 110. We saw how good they were live and had a general feeling they would blow the roof off as a headliner. Crawlers as a co-headliner in Old Town Hall will be pretty crazy on the Saturday night, they are both on similar trajectories at the minute and it's great to have female headliners for the festival. Black Honey will headline the Gopsall Inn too so that's three exciting female fronted bands, and we think really carefully about this when curating the lineup. I really do hope providing these slots helps to lift the stature of these bands, as festivals can often follow other line-ups rather than paving the way."
NC: On the flip side, who are the rising stars we should be looking out for this year, as 110 is known for uncovering musical gems?
ML: "I'm a closet pop fan even though we are heavy on indie at 110. People like Áine Deane, Cate, and Lexie Carroll I'm excited about, as they feel like they're on a similar trajectory to artists such as Maisie Peters who played previously. Also leaning more towards indie again we've got Michael Aldag. But everyone is on the rise so it is hard to pick out individuals. Of course, there are those we have been tracking for a long time and every year we see them grow, such as Tom A. Smith. He has his own headline tour this year and his sister is also making her festival debut at 110 this year. Ten Tonnes played his first festival here, and it's nice to see artists go on to bigger things after debuting at 110."
NC: The Royston Club will feature at Platform 110, but have enjoyed a rise in popularity this year. Is there a temptation to move them up the poster, how do you deal with situations like this?
ML: "We had something very similar before when we booked The Snuts a couple of years ago. They were due to play the Old Town Hall but blew up. Covid came along and then we promoted them to the Elizabeth Stage. We're going to keep The Royston Club on the stage because this is 110, and it's a great slot anyway as it is later at night after the Stage 1 and Stage 2 headliners. The stage was supposed to be acoustic in our initial thinking but that developed in line with the whole festival this year really. But seeing The Royston Club at Platform 110 is one of the things I'm most looking forward to. No stage is too small for a band as that's not what the festival is about."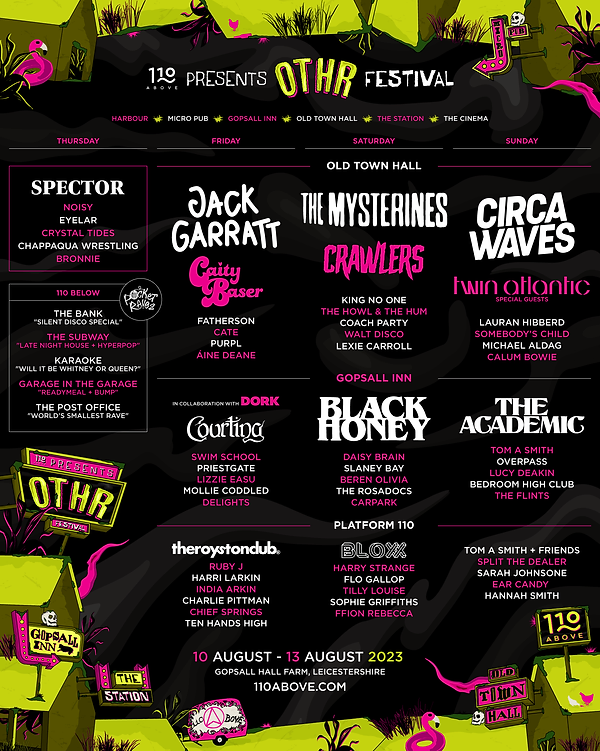 NC: Would you ever consider increasing the size of the festival?
ML: "It is a possibility but it would be very difficult to go much bigger, we would have to change the whole infrastructure. It is a fine balancing act. The bigger it gets, the less it feels truly independent and uncommercial. We have grown it organically, we would never just suddenly jump to 20,000 people, it is all one step at a time. We can't be reckless as we don't have commercial backing and sponsorships which offers that luxury."
NC: Finally let's discuss some fan favourites. Will the jacket potato van be returning after the "Twitter chaos" of 2022?
ML: "I think if there is a concerted campaign again then the jacket potato van will have to return. What happened was one of the organisers boldly stated in a meeting that we definitely didn't need jacket potatoes, which led to me putting something out on Twitter and lots of people responding in support of the jacket potato van. It was all good fun!"
NC: The 110 metal cups were a hit in 2021, any chance of a return this year?
ML: "We'd love to bring them back but the company isn't making them anymore. They were no longer economically viable due to raw material prices sky rocketing. It's a boring answer, but we couldn't justify charging people £15 for a cup. If you've got a 2021 cup at home, you've got a super limited piece of merchandise there."
NC: And of course, the festival's on-site horse, will he be enjoying the OTHR Festival?
ML: "Yes, Donny is still around. People will see Donny, the flat tree, all the 110 favourites again next month!"
110 Above Presents: OTHR Festival takes place from 10th-13th August, with remaining tickets available here – 110 Above | Tickets.
…
Follow us on our socials:
"If you could go out for a drink with any three musicians, past or present, who would you choose and why?" – That's what we ask our guests on the Fantasy Pints Podcast! Seasons 1 & 2 are available now. You can check out all episodes on Spotify, Apple and YouTube, including interviews with DMA's, Clint Boon, Robbie Knox, The Wombats, Jamie Webster, Clinton Baptiste, Scheiffer Bates, Omid Djalili and plenty more!