"From Nothing To A Little Bit More" by The Lathums (Island Records). Released Friday 3rd March 2023.
Rating: 9/10
After bursting onto the scene with debut number one album, How Beautiful Life Can Be (HBLCB), The Lathums not only made an impact on their hometown music scene which has thrived on the back of their success, but also laid down the marker for aspiring indie guitar bands, showing there is a pathway for talent in the industry despite years of the genre flying under the radar.
The debut album was raw, with their rapid rise testament to the poetic lyricism of singer-songwriter, Alex Moore, combined with the musical talent of his right hand man, Scott Concepcion (guiarist), the Wigan band's backbone in Ryan Durrans (drums), and of course Alex's exquisite vocal offering as an indie frontman.
Now, as we approach the release of their second album, The Lathums show no signs of second album syndrome as they progress and mature from the 2021 record with a new lineup following Johnny Cunliffe's departure. Matty Murphy joins on bass for the new era.
Alex has made no secret of his personal struggles which are evident throughout, but there is an overiding sense of optimism from a young man appreciating his gift and the people who have contributed to his band's platform, all whilst he comes to terms with himself and grows as a person.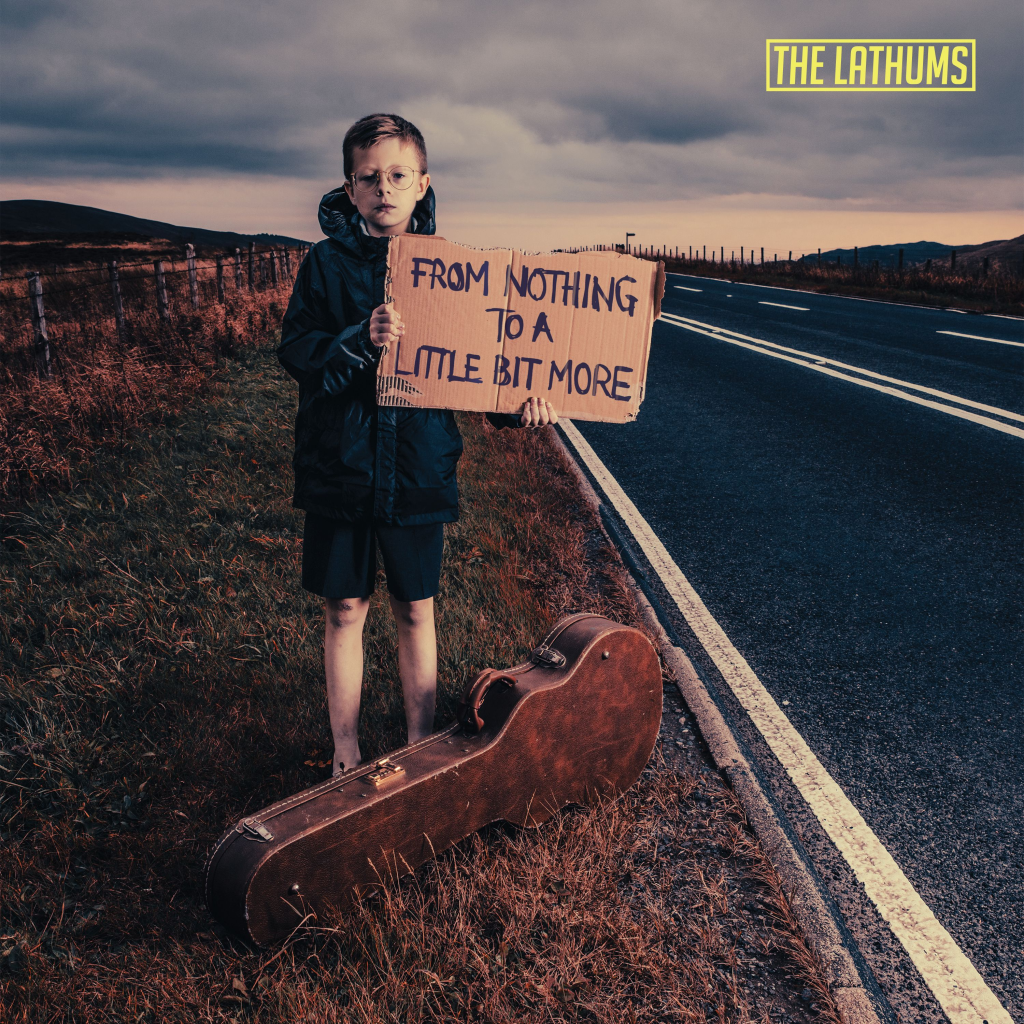 Opening with Struggle, the vulnerabilities of Moore are out in the open from the outset. The single has been a big hit with fans and is sure to be a live favourite in the years ahead. It could have been questioned as an album opener prior to release, but it sets the scene for From Nothing To A Little Bit More (FNTALBM) perfectly. Particularly in the way it leads into the contrasting Say My Name, Radio X Record of the Year in 2022. This track exudes confidence, contrary to how the band may suggest they feel in camp, and has been a real statement release in the build-up, signalling a new chapter which builds and matures from its predecessor both in terms of attitude and sound.
The first new addition is I Know Pt1, clearly inspired by the early 1960's R&B/soul scene and perfect for Moore's modern vocal spin. A clip of the track circulated from a Lathums in-store record shop performance and fans will finally get to hear the full version on record this week. Lucky Bean follows, certainly the most Paul Heaton/Housemartins track on the record, a comparison that has been made frequently since the band's breakthrough. "Thanks for letting me be just who I want to be", the track conveys a thankful songwriter and the addition of a trumpet provides an up-beat, celebratory feel to the song.
Moore's ability to deliver fast-paced verses has been a theme of previous offerings such as I See Your Ghost, and Facets brings this to life once again on the new record. Comparable to Wickerman, which in turn sees The Lathums channel Arctic Monkeys' Humbug era, Alex has been on record saying he actually finds singing at such an impressive speed easier. Rise and Fall is sonically reminiscent of The Great Escape, and could be interpreted as Alex suffering with imposter syndrome as he is "given things he doesn't deserve" – another theme from the album which is ultimately addressed in the record's crescendo…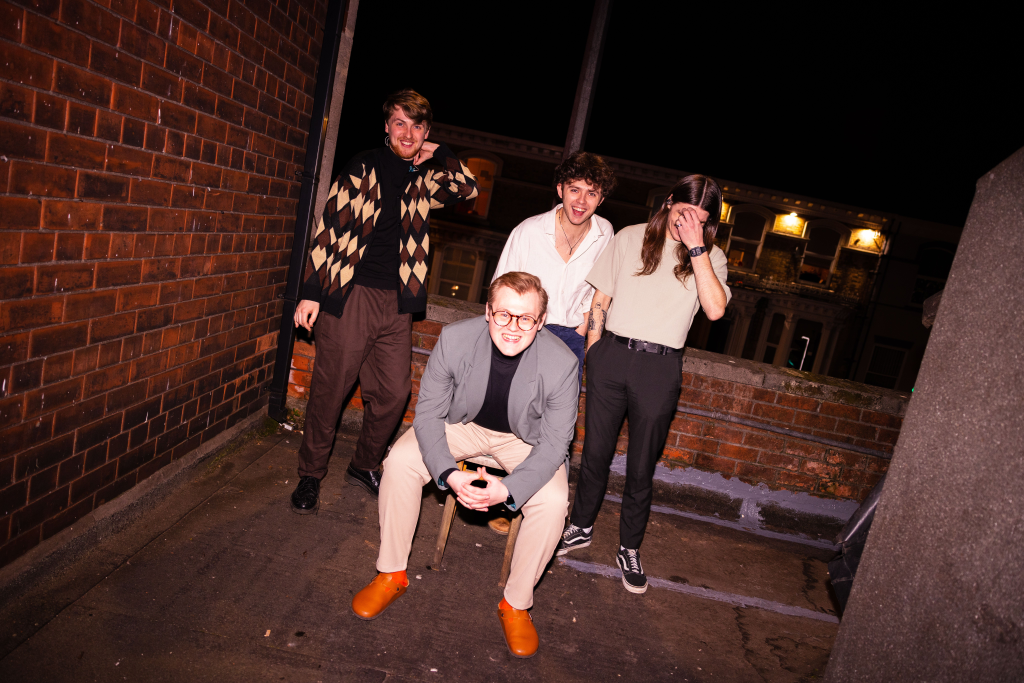 Sad Face Baby was a fan favourite long before release, a staple in the live set even in the HBLCB chapter. But it came to life on record and was the perfect lead single for the new album, as with Say My Name it appears to be a transition song from the raw debut to the coming-of-age follow-up. It precedes another single in Turmoil, a slightly surprising choice for a pre-album release which once again shows Moore at his most honest. A classical pianist worked with Scott on the arrangement as the lead guitarist continues to broaden his musical horizons and signify his importance to The Lathums' sonic progression. Melodically, the track could easily be compared to romantic pop classic, Nothing's Going To Change My Love For You, a sentence I never thought I'd be writing about an indie band from Wigan.
Land and Sky addresses relationship struggles. "Two wrongs don't make a right, two hearts intertwined". Perhaps FNTALBM is Alex's break-up therapy? The song also provides Scott Concepcion with his time to shine, as part of an extended outro that sees The Lathums becoming bolder with their arrangements. The following track is a nod to The Lathum's core original fanbase, with Crying Out being polished up for the new record. It certainly doesn't feel like an older track and slides perfectly into the second album, both in terms of sound and story.
And last but not least, if we had to pick a favourite from the new album it would be the closing track, Undeserving. Just over eight minutes long, it is a reflective masterpiece which allows Alex Moore to think out loud and spill his own thoughts on a personal tumultuous journey, both the ups and downs. This is the album wrapped up in one song. Is Alex maybe saying in this track what he struggles to say in person? "Whatever is inside me, I need to let it go", and he certainly does that with an honest and fragile assessment of coming to terms with an overthinking mind in the midst of struggles and success. But ultimately, this is a songwriter who is humble, grateful, and most importantly, happy. He apologises for how he perceives he has felt or behaved previously, and asks for patience from others to understand him, as he comes to terms with how to be happy himself.
From Nothing To A Little Bit More is out this Friday (March 3rd). Head to https://www.thelathums.com/ for more information.
Main Photo Credit: Ewan Ogden
…
Follow us on our socials:
"If you could go out for a drink with any three musicians, past or present, who would you choose and why?" – That's what we ask our guests on the Fantasy Pints Podcast! Seasons 1 & 2 are available now. You can check out all episodes on Spotify, Apple and YouTube, including interviews with DMA's, Clint Boon, Robbie Knox, The Wombats, Jamie Webster, Clinton Baptiste, Scheiffer Bates, Omid Djalili and plenty more!