After returning with popular hit, Heatwave in the Cold North, last year, Reverend & The Makers kicked off an exciting new chapter, experimenting with genres more than ever and creating a superb sonic shift that has been a hit with fans and critics alike. Their seventh studio album will be released later this year, accompanied by the Sheffield band's first UK tour in four years.
We caught up with frontman and "The Reverend" himself, Jon McClure, who told us what we can expect from the album and the inspirations behind the band's change in sound. We also talk about his home city of Sheffield, next month's UK tour, the importance of staying grounded, and plenty more.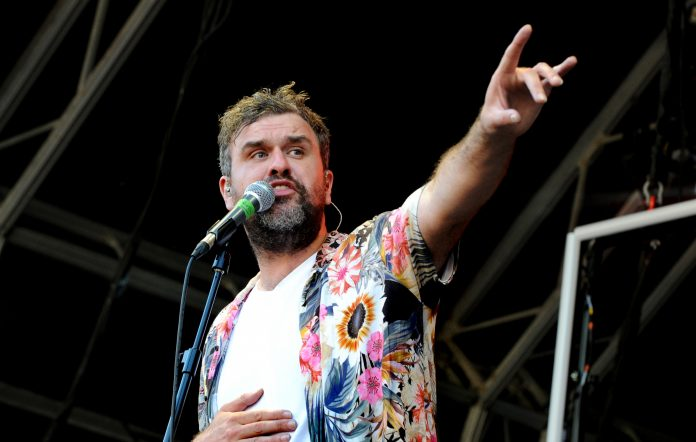 NC: You have described your new album as "if Barry White came from Sheffield", can you explain to us a bit more about this?
JM: "It started as what if Ian Brown sang a Frank Ocean album, and morphed into what if Barry White came from Sheffield. It's definitely a very different sound for us. All of our albums sound different but this one took a particularly leftfield turn. In 2020, I met a lad called Danny and hit it off with him immediately. We started writing loads of tunes together, he basically moved in with me during a heatwave in the summer. He is a melody guy and the words are coming from me. A lot of male, ageing indie singers use the same inflections and style when they record music and I didn't want to fall into any traps or try to make the same music we have done before."
NC: So what can we expect from the new sound, will it be as chilled out as the singles suggest?
JM: "It's definitely more soulful and blissed out. Melodically it's a bit more Tyler, The Creator, Frank Ocean or Drake. Musically is where the Barry White reference comes in, pulling in my mum and dad's musical influences. This, combined with the Sheffield voice, makes it quite a unique mix for the record. Usually modern melodies go with modern music and retro melodies go with retro music, but because my voice is very northern and by no means Frank Ocean or a soul singer, this exists in a time and place all on its own. I'm really proud of it, it's nice to feel this way towards my music rather than making albums for the wrong reasons. I've unlocked this whole new lane for myself musically and I want to keep going with it."
NC: It can often be a risk when bands change their sound, how have the fans taken to the shift?
JM: "People love it. I did a podcast the other day with James McMahon who used to work for the NME. He told me he'd spoke to five journalists who were quite sniffy and not necessarily fans of Reverend & The Makers, but they had all said the new songs were brilliant. So not only have the old fans got into it, but we're probably getting some new fans too. Radio 2 have been great with the new tunes. I played Problems at Tramlines last year, and I've never in all of my time in the band had so many people asking when is this song coming out. There's something about being in a band and having a fragile ego, anyone that says otherwise is lying, so to hear things like that is really nice and reassuring."
NC: The new single, Problems, is out next week, how would you describe the track?
JM: "I guess it's as if I sang and wrote the lyrics for a TLC song. Comparing music to food, if you read the description for Problems on a menu you'd be asking 'what on earth is that?'. Normally I make an album, move on, and work on the next. With this new stuff, I actually want to listen to it. I play it all of the time and my kids love it, they're even singing some of the catchy melodies. My five-year-old keeps singing Problems, so we must be doing something right."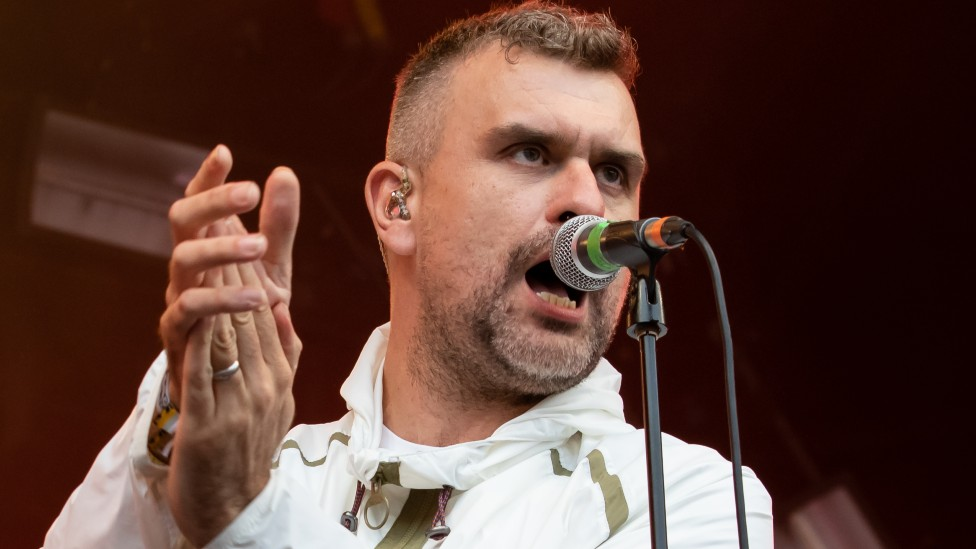 NC: You'll be heading out on tour for the first time in four years. The live element has always been a huge part of the band, how much have you missed this side of it?
JM: "It was horrendous during the pandemic. Playing live is how bands of our size make their money, we are a live band. For 10-12 years it was consistent gigs and festivals, and now things are picking up again. A big chunk of the tour is sold out and the new music is going down well, so I feel like a lottery winner, it's amazing now. There's a real bond with the fans. Unless you're a fan of the band you won't get it, similarly to how it sounds with Yungblud at the minute.
NC: Have you thought much about how the new sound will integrate into the Reverend live set alongside the likes of Heavyweight Champion Of The World and Bassline?
JM: "Yes, the slower tracks always go down really well anyway. It's good to have those numbers where you can just stand and sing, moving through the gears. Heavy hitters and bangers can get a bit hectic so it's nice to have reflective moments in the live shows. And you need it when you're playing for 90 minutes, I'm not of the opinion that we need to be one dimensional."
NC: You play two nights in Sheffield and it's a given that they will be big shows for you. Where else are you looking forward to playing?
JM: "There are certain places we haven't played for years that have sold out in advance like Brighton and London. Manchester, Newcastle, and Liverpool we love, we just can't wait to play everywhere to be honest. I've played Wembley Stadium supporting Oasis and I've played in people's houses, it's all the same to me. I just love performing live. It's like the story of Wayne Rooney scoring against Arsenal and going home playing on the street with his mates, that's how I feel about music. It's a mental release for me."
NC: Is this undying passion for music the trick to your longevity as band, would you say?
JM: "Definitely. For a lot of people that fire has gone out and they're still making music to make money. I'd rather just go to work and graft doing something differently if that fire went out, because there'd be no point. I've sometimes thought I'd become a taxi driver or go and work with my cousin. With songwriting, I always think I need to write that perfect song, it's a burning obsession and let's be honest, I'll never get there. But these new songs are the closest I've got, and I'll go to Wales to write more with Danny soon and I'll keep trying to achieve that perfection."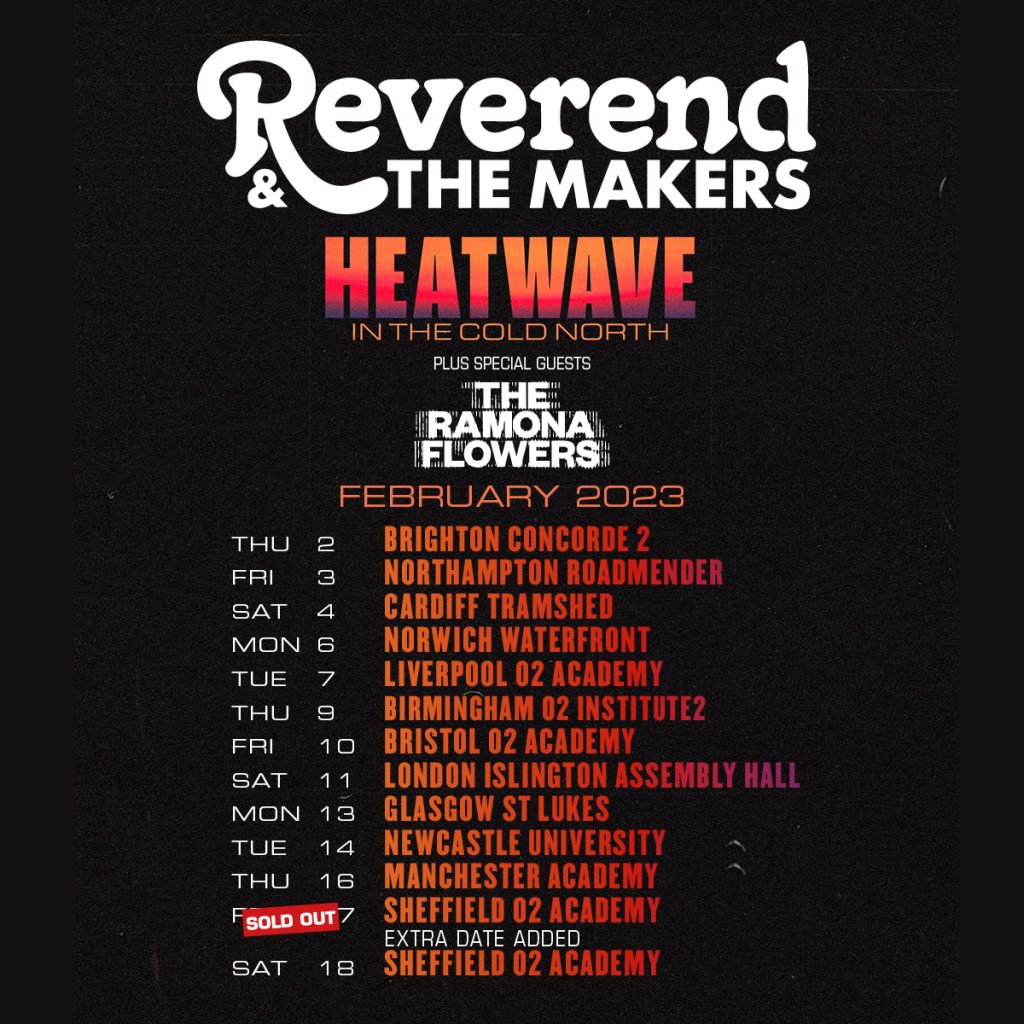 NC: How important has the bond with your home city been for Reverend & The Makers?
JM: "Social realism is something that is prevalent throughout Sheffield artists, and the city continues to inform me and the things that I do. I want to inspire young people to stay and be successful here, you don't have to go down to London to succeed. Self Esteem, Bring Me The Horizon, and The Reytons are out there smashing it locally. Sheffield is just a great place to be creative and continues to produce these talented bands and artists. There's something in the water here. There is a lot of industrial land that is still available and hasn't been gentrified into flats like other cities. Our studio is in an old steel factory, there are still people making steel next to where we practice, and there's something quite special about that. People just express themselves here, there is a real creative energy that just doesn't stop. It's not a coincidence that Arctic Monkeys come from Sheffield and are the biggest band in the country."
NC: This idea of remaining grounded and relatable is something you carry over to social media, where you always interact with fans. Was this a conscious decision, as some bands like to stay away and create more of a sense of mystery?
JM: "It wasn't something I consciously did, it was just natural and people took to it. The internet removed the element of mystery for most bands, only mega famous artists can afford to be mysterious. That era has gone, we were a MySpace band originally, like The Libertines and Arctic Monkeys. As much as we were the last of something in terms of big record deals, we we were also the first of something with social media's emergence. You can't imagine John Lennon or Joe Strummer tweeting, can you? Anyone who thinks they can get by without harnessing social media is kidding themselves. And unless you're ignorant, who wouldn't want to talk to their fans directly? You can interact and help people out. I've had messages saying certain things I've done have had a real impact on people, and that's very important and where music becomes a whole different thing. People listen to you and that's where responsibility comes in and I take that seriously. There's a real community around our band, they call it the Rev Army, and I feel proud of that. There is a sense of being about something with values, which I love."
NC: And finally, are there any artists you're enjoying at the minute that you'd like to give a shout to?
JM: "I've been working with an artist called Noah who is brilliant. Frankie Beetlestone is doing great from a village near where I grew up, he is smashing it. Joesef from Glasgow has just released his album and that is outstanding. I also travelled to Africa for a couple of months recently and a lot of music I heard over there was amazing. Check out Nyege Nyege Tapes online from a festival in Uganda."
Head to http://reverendandthemakers.co.uk/ to pre-order the new album, Heatwave In The Cold North, and to purchase tickets to next month's headline UK tour.
…
Follow us on our socials:
"If you could go out for a drink with any three musicians, past or present, who would you choose and why?" – That's what we ask our guests on the Fantasy Pints Podcast! Seasons 1 & 2 are available now. You can check out all episodes on Spotify, Apple and YouTube, including interviews with DMA's, Clint Boon, Robbie Knox, The Wombats, Jamie Webster, Clinton Baptiste, Scheiffer Bates, Omid Djalili and plenty more!