Middlesbrough's award-winning multi-venue music festival is back, revealing the first wave of artists for Twisterella 2022. This year's event will take place on Saturday 8th October 2022, with all of the venues less than a 5 minute walk from one another!
2022 venues include Teesside University Students' Union, The Townhouse, TSOne and The Westgarth Social Club, along with pop-up sessions on Baker Street and Bedford Street. Local up and coming band, Benefits will headline a lineup packed with emerging talent…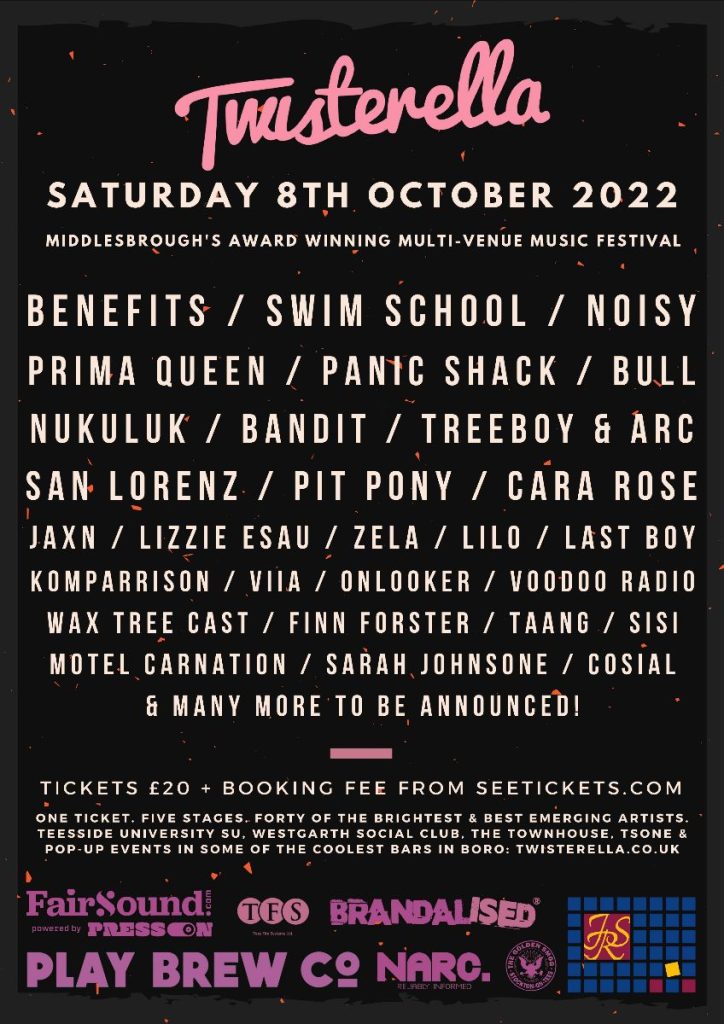 Co-promoter Andy Carr commented: "Twisterella returns this October with an action-packed line up featuring with some of the most exciting new and emerging artists around. We can't wait for fans to discover and make an early connection with their new favourite act, and all of this right in the heart of Middlesbrough. It's going to be another brilliant year!"
Kingsley Chapman, frontman of Benefits, says: "We're very excited to be playing Twisterella this year. After selling out the Middlesbrough date on our last tour it seemed only right to come back and do what we do again. The overwhelming buzz of positivity and unity in the room back in April was thrilling – that we're getting similar reactions to our performances up and down the country is extraordinary. In short, we can't wait to be back."
In 2019, Twisterella won the AIF Independent Festival Award for its 'forward thinking bookings', with a track record for giving slots to the likes of Fickle Friends, Black Honey, Lauran Hibberd and Sam Fender since launching in 2014!
Tickets for Twisterella Festival 2022 are on sale now and priced at £22.00 HERE.
…
Follow us on our socials:
"If you could go out for a drink with any three musicians, past or present, who would you choose and why?" – That's what we ask our guests on the Fantasy Pints Podcast! Season 2 is underway now, with the latest episode below. You can check out all episodes on Spotify, Apple and YouTube, including interviews with DMA's, The Wombats, Jamie Webster, Phoenix Nights' psychic Clinton Baptiste, impressionist Scheiffer Bates and plenty more!