The Reytons are the latest breakthrough band from one of UK music's hotspot regions, South Yorkshire, after bursting onto the scene with debut album, "Kids Off The Estate" in 2021. Building a loyal following and making their name on the back of relatable, honest lyricism and an unrivaled live energy, the band are showing no signs of slowing down.
They sold out their 4,500 capacity hometown Rotherham date at the Magna in just 10 hours, and announced "The Uninvited Tour" last week, which will see the band perform 13 shows across the UK in November/December. The Reytons will also be performing alongside Gerry Cinnamon and The Kooks at the eagerly anticipated Meadowlands at Victoria Embankment, Nottingham, Friday 3rd June.
We caught up with frontman, Jonny Yerrell, who told us what fans can expect from the forthcoming Meadowlands performance, as well as the UK tour dates, revelling in the 'underdog' status, what 'success' means to The Reytons and plenty more!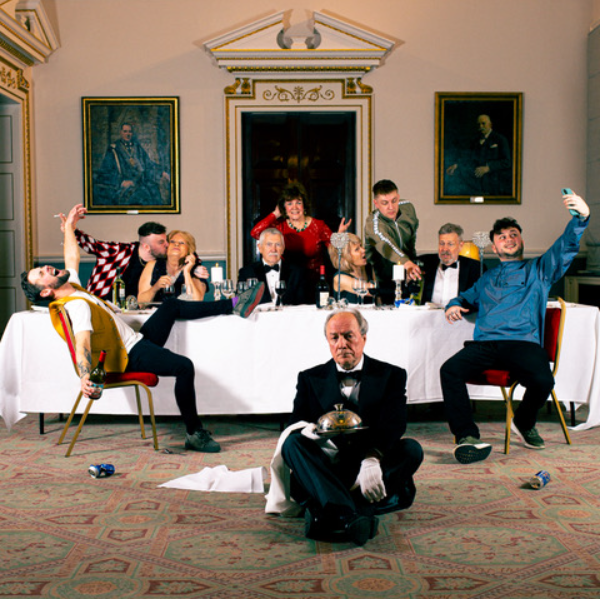 NC: You've enjoyed a real breakthrough over the past couple of years, can you sum up what this period has meant to the band?
JY: "You ask me to tell you what the last 12 months have been like, it's been that non-stop I couldn't even tell you what month we're in now. We came out of lockdown and I felt we'd really sharpened our tools. We've been trying individually to crack this industry for a very long time and to finally get a bit of success and platform as a band is absolutely incredible. We don't want to lose any momentum so we've not stopped to reflect on any of it yet. We'll keep pushing forward, writing new music and gigging, then maybe one day we can look back reflectively."
NC: With "Kids Off The Estate" wrapping up a long period of time, is it now time to look at Chapter 2? Can we expect any changes sonically?
JY: "It's definitely a new chapter. When it comes to style, I don't want to take it too far away from what we're doing now. I'm really enjoying it and it's working so we'll not get experimental and try to find our 'inner selves'. We know who we are, we've been in music for a long time and we've finally created this tribe of people who love what we're doing, so it'd be silly to flip that on its head. The most important thing for us is to enjoy what we're doing because that's been working well so far."
NC: You're heading to Meadowlands in June, for anyone who hasn't seen the band live before, what can they expect from The Reytons?
JY: "We're just going to come out there as if everyone knows who we are anyway. It's not a front, we are just a ball of energy. Somewhere at Meadowlands, whether it's 10 people or 1000 Reytons fans in there, you'll see those people and hopefully you'll want to get involved as well. It is almost like a tribal football audience, an away day atmosphere when we play. It's marmite, but hopefully people will love it."
NC: And it must be nice seeing yourselves so high up on the poster, and playing alongside the likes of Gerry Cinnamon and The Kooks?
JY: "Yeah, it's amazing. I'm a bit older than some members of the band, so Gerry Cinnamon is a massive inspiration as he's a similar age to me. When things started popping off for him it showed that it's all about the music and less about the age, so that inspired me a lot. We have got a bit of a crossover audience, so I'm hoping the majority of his fans will like us. In terms of the billing, I remember looking at the bottom of festival posters and getting excited. Now, to see ourselves third from the top of the bill, we're pinching ourselves and it's exciting to see how far we can take it."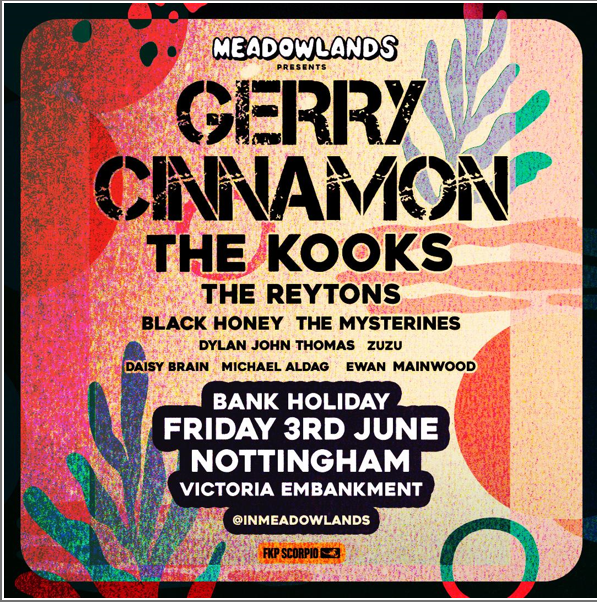 NC: Have you had much experience playing in Nottingham?
JY: "We've only played a couple of times because of lockdown, but it doubles every time. We're playing Rock City later this year, it's our drummer Jamie's favourite venue and he's been banging on about playing there for ages. It's a dream when you start talking about venues like that though, and we never overshoot when it comes to arranging tour locations, so we feel this is where we're at now. We get a lot of love from Nottingham, we always have. So it's great to come and play two big shows there this year."
NC: You're heading out on the 'Uninvited Tour' later this year and released an amusing teaser video for it. So what is this 'Uninvited' theme all about?
JY: "There's a bit of tongue in cheek there. We've had a lot of barriers on our journey but we seem to jump over them all. We've had very little mainstream backing. Jack Saunders has been great to us but so many other bands get a lot more support from national radio and media. It feels like we're not invited but we're here anyway, an underdog story. Persistance over resistance! But whilst we bang on about national support, we really appreciate the local and regional support we get, and obviously the love we get from fans. Hopefully we push on and get to the point where everyone has to write about us."
NC: Do you like the underdog tag?
JY: "Absolutely we love it, we've always been underdogs. Whether it's where we've come from or with our music, I wouldn't ever want to be on the other side of it. One thing you worry about is chasing something for this long, what happens when you catch it? But the chase is exciting and once we get ourselves onto a pedestal we'll never forget this, we'll work hard to shout about others in a similar position and help drag them through."
NC: You mention the pedestal, so what exactly does that mean for The Reytons? What do you view as 'success'?
JY: "I've said all my life I can't wait until we make it, but I'm not sure what this means. We played the Hull derby live on Sky Sports, sold out gigs left right and centre, if I'd have told myself three years ago this is what we'd achieve, then we'd have taken it of course. But then it's all about looking forward to the next milestones. To have good financial stability and no worries, that would make a difference. If we stopped today and never played again, I'd hope people would still listen to our music for years to come. But I still feel like we have a way to go. You look at a band like Courteeners, a good solid career and a top level that no-one can ever take away from them, so reaching that stage would be nice."
NC: Where are you looking forward to playing on the tour, anywhere you've not played before or particularly excited to play again?
JY: "Everywhere really. It's always nice to visit somewhere new, but we have a lot of travelling supporters so we see some familiar faces wherever we play. In terms of places we've already played, the venues are increasing in capacity. Tickets went on sale and some are close to selling out already. To think we're already on tour, have lots of festivals planned and this tour is only in November, we're pretty pleased with the reaction."
NC: There's no hometown date on the 'Uninvited Tour, have you got something up your sleeve?
JY: "We've got Magna on this current run, 4.5k tickets sold in 10 hours, that was mindblowing. Some people will always comment saying why are we not doing this, why are we not doing that. But we'll obviously do something, maybe a standalone show. It's coming."
NC: And can we expect to hear new music on the tour?
JY: "I hope so. We're so busy with the tours and stuff, but we are writing. More music is coming but we've got no dates penciled in. Hopefully it won't be too far away."
NC: Do you feel you're inspiring a new generation of fans from South Yorkshire, a region famed for its music history?
JY: "I don't know. We get a lot of people saying that, but it doesn't feel real so I don't dive too much into it. It's nice to see streaming figures and people sharing your stuff, but it's more about the live shows for me. Someone gave me their demo at a gig and we'll be listening to that in the van tomorrow, so it's nice to see. But it seems daft to me that we're inspiring people, we've been inspired by so many hard working artists who've come out of this area. We're quite poweful with our message on stage and talking about where we've come from, but we're an extremely humble and grateful band too. We really couldn't do it without people backing us."
Tickets for the 'Uninvited Tour' are on sale now from https://thereytons.com/pages/shows. Full list of tour dates is below. Tickets for Meadowlands to see Gerry Cinnamon, The Kooks, The Reytons and more in Nottingham on Friday June 3rd are on sale now here eventim.co.uk.
THE UNINVITED TOUR 2022
5-Nov-22 Stoke Keele SU
11-Nov-22 Nottingham Rock City
12-Nov-22 Norwich Waterfront
18-Nov-22 Coventry Kasbah
19-Nov-22 Cardiff Tramshed
24-Nov-22 Glasgow Barrowlands
25-Nov-22 Middlesbrough Empire
26-Nov-22 Leeds O2 Academy
1-Dec-22 Liverpool O2 Academy
2-Dec-22 Manchester O2 Ritz
3-Dec-22 Newcastle NX
9-Dec-22 Brighton Chalk
10-Dec-22 London Electric Ballroom
…
Follow us on our socials:
"If you could go out for a drink with any three musicians, past or present, who would you choose and why?" – That's what we ask our guests on the Fantasy Pints Podcast! Season 2 is underway now, with the latest episode below. You can check out all episodes on Spotify, Apple and YouTube, including interviews with DMA's, The Wombats, Jamie Webster, Phoenix Nights' psychic Clinton Baptiste, impressionist Scheiffer Bates and plenty more!