What started out as a five-star Edinburgh Fringe show back in 2018 and a sell-out UK tour the following year is now back on the road, with the multi-talented Gyles Brandreth setting out on his re-arranged 'Break a Leg!' tour! The shows see the actor, author, ex-MP and broadcaster take to the stage for a one-man-show across UK theatres from now until June 2022, with an eagerly anticipated visit to Crewe's Lyceum Theatre this Saturday (18th September)!
The show is a celebration of all things theatre, with Gyles bringing his unrivalled wit and endearing personality to crowds for the first time in two years. After entertaining viewers on the likes of This Morning and Celebrity Gogglebox throughout the pandemic, this adaptation of the 'Most Popular Show At The Fringe Award' winner is a must-see for fans of Gyles, with tickets selling fast…
We spoke to Gyles about the tour, including what to expect from the show and where he is looking forward to visiting. We also discuss his new book, 'Odd Boy Out', as well as how keeping busy created happiness during the lockdowns and plenty more!

NC: Your tour is underway, what was it like to finally get back out there in front of a live audience?
Gyles: "Simply amazing, to be honest with you. I go out onto the stage and I say "welcome back to live theatre" and the cheering and applause goes on for minutes, people are just so happy to be back. The show is adapted from the Edinburgh Fringe award-winning show and has now become a celebration of live theatre, all the things that can go right and all the things that can go wrong. People do seem to be having a lot of fun with it and I couldn't be more thrilled. It's quite interesting because some people in the audience are still wearing masks, so the applause sounds thunderous but some of the laughs sound slightly quieter. I was worried at first that the jokes weren't landing and then I realised it was just muffled laughter I was hearing from the people in masks!"
NC: For anyone who hasn't seen the show before, what can they expect from the tour?
Gyles: "The show is about the actors I was lucky enough to meet. When I was young, I was lucky enough to meet some of the great British actors of the 20th century. People like Sir Laurence Olivier, Sir Ralph Richardson, Sir John Gielgud and Sir Michael Redgrave. Great names like Rex Harrison, the original Professor Higgins in My Fair Lady, there are some quite funny stories about him. There will be lots of name-dropping, lots of singing and lots of laughs. I think what people need now are laughs, and along the way I hope they hear some intriguing stories. I just want people to leave the theatres in good spirits, and after the shows I will be sticking around to meet people. Some people want to bump elbows and some want a hug, I can assure people I'm double vaccinated and tested every day so whatever people are comfortable with works for me!"
NC: Are there any places you're particularly looking forward to visiting on the tour?
Gyles: "For me, the excitement of this tour is going to different places and theatres, of which the Crewe Lyceum is of particular interest to me. I'm spending quite a bit of time in different parts of Cheshire too which I'm enjoying, I know the area quite well. I've also been enjoying visiting Yorkshire quite a lot recently because my teddy bear collection is now at Newby Hall near Ripon in North Yorkshire. I'll also be going to Sunny Bank Mills in Leeds to talk about my book which I'm excited about, and I'm looking forward to Ilkley Literature Festival too."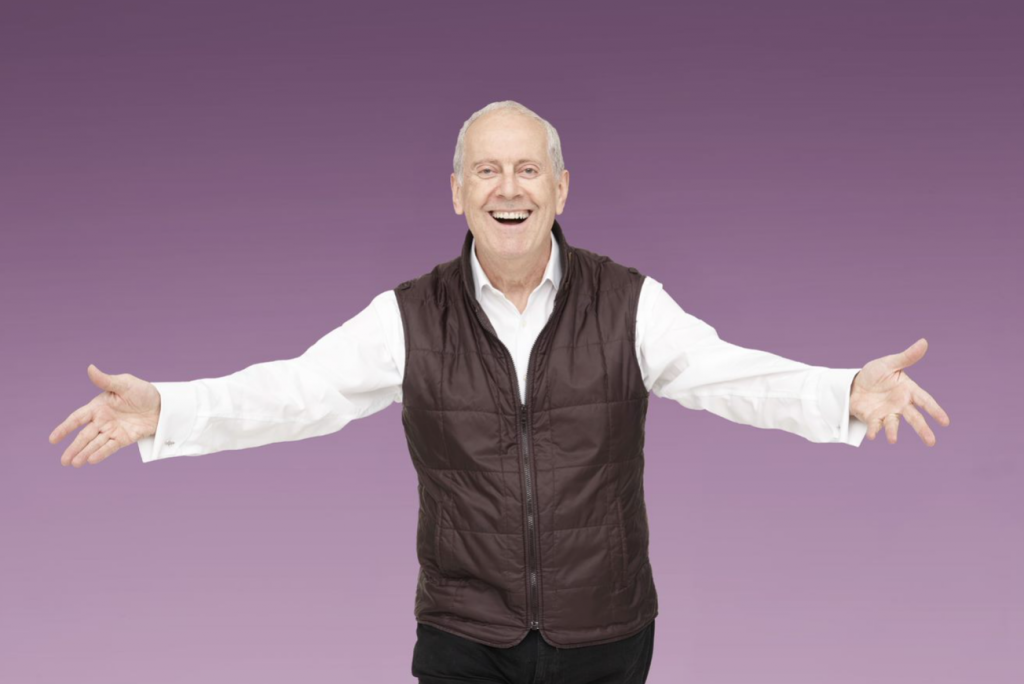 NC: Your new book 'Odd Boy Out' is out this month, how did this come about, was it written in lockdown?
Gyles: "I was due to do a stage show with Dame Judi Dench, followed by the 'Break a Leg' tour, which were both postponed last year, so I was thinking what could I do instead and decided it was the right time to write an autobiography. My wife said 'not another book, does the world really need another book from Gyles Brandreth'? I reminded her that we have three children and seven granchildren, and money is the one thing keeping us in touch!"
NC: What can people expect from 'Odd Boy Out'?
Gyles: "I suppose it's a childhood memoir, my memories and recollections of life up to the 1970's. It's really a book about the people that make us who we are. Some of my family come from Lancashire, some are from Cheshire, some are from Yorkshire, and it's about how they have influenced me, in particular my parents. A lot of what I did as a child I'm still doing now. I was in school plays and I'm still appearing in shows, I wrote for the school magazine and I'm still writing for newspapers. I began writing my first book at the age of 10 in fact, precocious little thing I was. It was a biography of William Shakespeare but I didn't get very far with it, I don't think he left Stratford-upon-Avon! I also loved dressing up as a child and I'm still wearing colourful jumpers, so everything I've done in my life is based on my childhood. I'm hoping people will find 'Odd Boy Out' interesting because, if you grew up in the same era as me, you'll relate to it all."
NC: Did you struggle to keep busy throughout lockdown or did writing the book make things easier?
Gyles: "One of my old teachers, Mr C.L Stocks was one of the most influential people in my life, and one of the first things he said to me was "busy people are happy people". I've tried to live by that all my life, which is why I've tried my hand at so many things. My wife says I'm a busy fool! Throughout my life, if one door closes, a different door opens. So when I'd finished with my book, along came Zoom and I managed to pop up on The One Show and This Morning, which I love. Then when we were allowed out, myself and Sheila Hancock filmed a show out on canal journeys, which was fascinating and nice to be out in the fresh air again. After this, I was able to do Celebrity Gogglebox at home with remote cameras, which was a revelation actually. I mention this in the show that I discovered my new must-see TV programme from doing Gogglebox, which is of course, Naked Attraction!"
NC: Have you found that appearing on these new shows has reached out to a wider audience when it comes to the 'Break a Leg' tour and followers online?
Gyles: "Yes, but interestingly I've always found that people listening to the radio show I do, 'Just a Minute', includes quite a lot of teenagers, so there has always been a good sprinkling of ages at the shows. I say to the older people, this is our lives we are talking about, and I say to the younger members of the audience, this is history!"
…
You can view all the dates and book tickets for Gyles Brandreth's 'Break a Leg' tour HERE.
…
Follow us on our socials:
…
If you haven't already, make sure you check out our Fantasy Pints Podcast, where we interview a different guest each week and ask the one common question – "if you could go for a drink with any three musicians past or present, who would you choose any why?" Latest episode below!