Blossoms have surprised fans by announcing a collaboration with Rick Astley, with the Stockport and St Helens artists combining for two special shows where they will perform 'The Songs Of The Smiths'. The shows will take place next month, kicking off at Manchester's Albert Hall on Friday 8th before ending at London's O2 Forum Kentish Town on Saturday 9th.
The Newton-le-Willows pop icon joined the band on stage in London last night to give fans a taste of what to expect in October, performing covers of 'Panic' and 'This Charming Man' together, before the Stockport five-piece covered Rick's biggest hit, 'Never Gonna Give You Up', later in the set.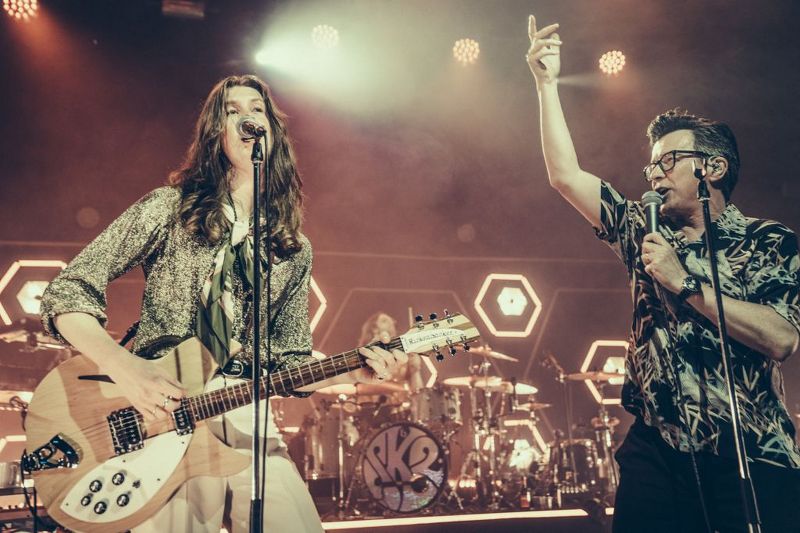 Astley first hinted at the possiblity of 'The Songs of The Smiths' back in 2016, when he claimed he would 'perform an entire set of Smiths songs' in an interview with Rolling Stone magazine. He has been a long time admirer of the iconic Manchester band, and even found himself on the cover of Morrissey's single 'The Last of the Famous International Playboys'.
 
Blossoms frontman, Tom Ogden commented: "The Smiths have always meant so much to Blossoms, with even their rainiest songs complete with wry humour and soul-reaching musicianship and melody. Their poppier moments are pure, joyful, danceable poetry. Imagine backing Rick Astley to play the songs of The Smiths? We've had wilder dreams, but not many. We'll barely be able to believe it until it happens, but the dates are set, we're studying every note, line and beat to say 'thank you' to The Smiths alongside Rick and do both of them proud."
 
Rick Astley added: "From the moment The Smiths emerged in 1983 I was hooked and it's as a fan, with deep respect as a musician for Morrissey, Marr, Rourke and Joyce, that I'll be joining the endlessly enthusiastic and talented Blossoms on stage to sing their songs. It's no secret that it's been an ambition of mine to turn an idea that first sounded crazy, making more sense as Blossoms and I talked about it and then rehearsed it, into a reality. These shows will be nights that I'll never forget."
 
Tickets go on sale for both dates at 9.30am on Friday 17 September 2021 from www.seetickets.com.
Main photo credit – Lewis Evans
…
Follow us on our socials:
…
…
If you haven't already, make sure you check out our Fantasy Pints Podcast, where we interview a different guest each week and ask the one common question – "if you could go for a drink with any three musicians past or present, who would you choose any why?" Latest episode below!