Spike Island: The Resurrection is commemorating the 30th Anniversary of the Stone Roses' era-defining gig at Spike Island on Saturday, after the government gave the green light for live music to return in its full form. It is the first time Spike Island has been reopened for music since the 1990 gig, with popular Stone Roses tribute band, The Clone Roses topping an impressive lineup.
 
On course to break records as the world's largest tribute-themed festival, the event boasts some of the best tribute artists the UK has to offer, including Oasis, The Smiths, Happy Mondays, James and New Order. There will also be DJ sets from Mark 'Bez' Berry, Clint Boon, Andy from 808 State and MC Tunes. The full lineup and set times below: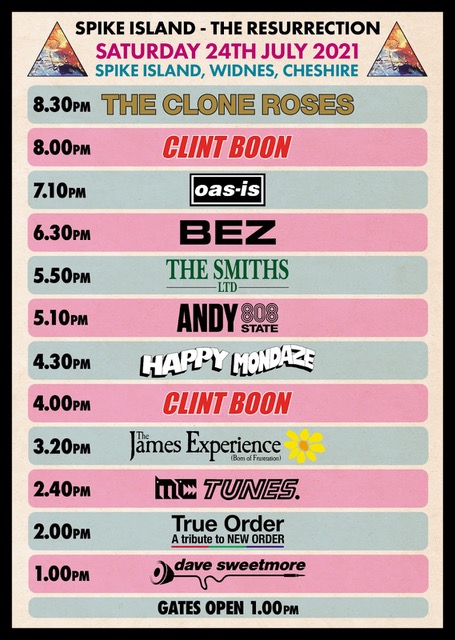 There will be food and drink available on the day, as well as vintage clothes stands selling Madchester fashion from the era. The festival has announced it will be operating a 100% cashless system, with a cashless wristband with credit installed for any purchases. For further details on how to top up your wristband on site or before arriving, please head to: http://spikeisland2021.com/cashless
95% of all tickets are now sold out, with last and final tickets are on sale now. Don't miss out, get yours here: www.spikeisland2021.com
…
Follow us on our socials:
…
If you haven't already, make sure you check out our Fantasy Pints Podcast, where we interview a different guest each week and ask the one common question – "if you could go for a drink with any three musicians past or present, who would you choose any why?" Latest episode below!