110 Above Festival returns to Gopsall Hall Farm in Leicestershire next month, taking place from 12th-15th August with one of the standout lineups of the summer. Regarded as one of the hotspots for emerging talent, the festival has once again delivered a lineup stacked with some of the most exciting names in UK music (full lineup at the bottom of the article). We've put together a preview of the festival, including a look at the three headliners and our Top 5 unmissable artists, as well as what you can expect from the festival itself!
Firstly, we'll look at the three headliners. Mercury-nominated Sports Team are fresh from their highly regarded debut album, 'Deep Down Happy', and returned to live music at the nearest of opportunities on July 19th. Known for their energetic live shows, charismaric frontman (Alex Rice) and jovial lyricism, the six-piece are likely to put on one of the best shows of the weekend. The likes of 'Kutcher' and 'Here's the Thing' are firm live favourites, and with the addition of new material such as 'Happy (God's Own Country)', it's sure to be a party on the Friday night!
Next, we have The Amazons, selected as special guests for Royal Blood's upcoming arena tour and always a must-see at a festival. Since breaking through with critical acclaim back in 2017, the band have gone on to release two top 10 studio albums and garnered a reputation for their impressive live performances. Another worthy headliner for Gopsall Hall Farm, The Amazons will headline the main stage on Saturday night!
Finally, we have Sundara Karma, another of the biggest breakout indie bands of recent years. The Reading band headlined the Saturday of 110 Above back in 2017, following the release of their outstanding debut album, 'Youth is Only Ever Fun in Retrospect'. They return in 2021 with another album under their belt, as well as the experimental 2020 EP, 'Kill Me'. You can catch them headlining the main stage on Sunday, in what's set to be the perfect closing party!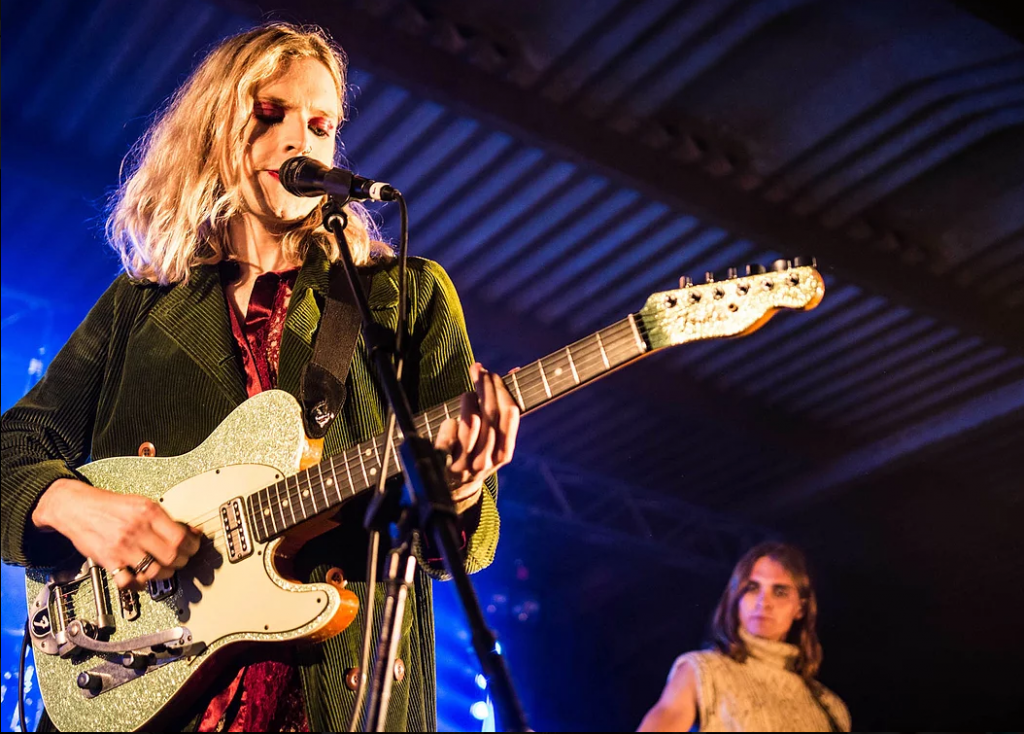 As we said, this is an impressive lineup, so who else should you be treating as unmissable artists across the weekend? We've picked out five for you, the first being West Lothian four-piece, The Snuts. Their debut album 'W.L.' beat Demi Lovato to number 1 this year, and deservedly so. Faced with the pressure of a host of popular singles already to their name heading into debut album release, the Scots managed to nail down a perfect tracklist combining new and old, with their popularity soaring in the last 12 months. Already huge in their native Scotland, The Snuts have played to thousands on the main stage at TRNSMT, and we expect the crowds to be flocking to their performances across the rest of the UK as we emerge out of lockdown.
Another one to watch is Liverpool's rising star, Zuzu! Fresh from playing at the Sefton Park pilot gig alongside The Lathums and Blossoms, signalling the return of live music, Zuzu's reputation as one of indie's most promising new talents is only getting stronger by the day. Popular hits such as 'All Good', 'What You Want' and 'Skin and Bone' have gained Zuzu a strong following, with Courteeners recently selecting her as a special guest when the band return to play in front of 50,000 people at Emirates Old Trafford in September.
Out third pick is Lauran Hibberd! With the much anticipated 'Goober EP' out this Friday, the Isle of Wight artist is on the cusp of a major breakthrough. Her 'slacker pop' anthems have garnered millions of streams already, and when Lauran appeared as a guest on our Fantasy Pints Podcast recently (listen HERE), she suggested a debut album wouldn't be too far around the corner. She will also support The Vamps on tour this year, as well as playing numerous headline dates and festival appearances, in what could be a huge year for the elevation of this talented musician's career.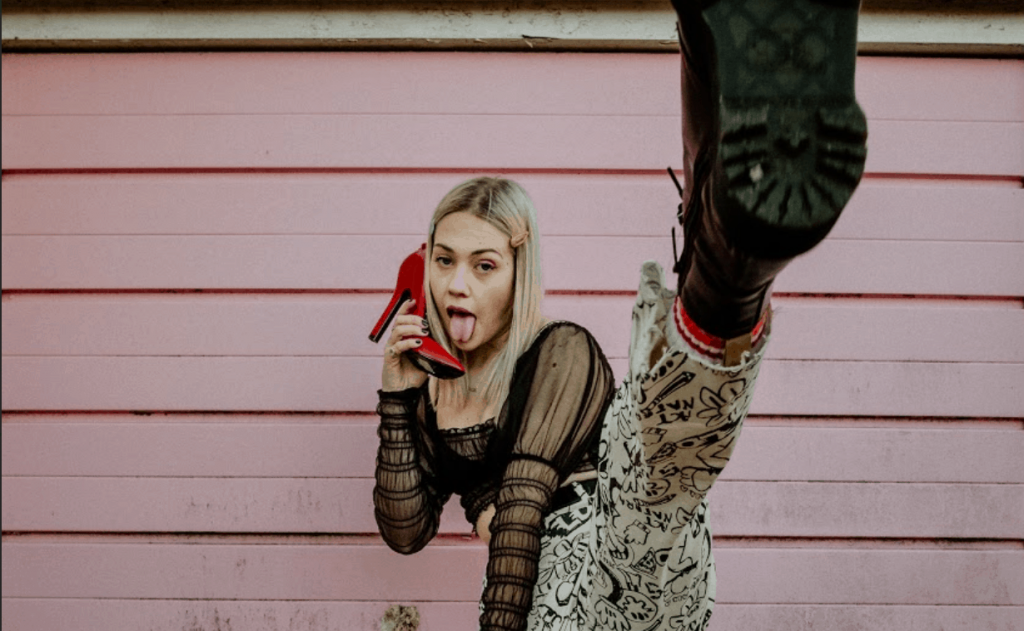 Our fourth tip for unmissable artists is Deco! During the pandemic, the band turned to 80's mashups as a way of keeping the creative juices flowing and providing some lighthearted entertainment for their followers on social media. They have been very well received, with many applauding the band for shining a bit of musical light on their lives during what was a tough period. But don't let the mashups distract from the fact that this is a serious band, with an array of catchy indie pop hits to their name. With a BBC Radio 1 Big Weekend slot under their belt in 2021, Deco are on the rise, and come with a perfect summer festival sound. Listen to our chat with Max HERE, where he promised at least one of those popular 80's mashups in the live show!
Our fifth and final pick is The Howl & The Hum. Their aptly titled debut album, 'Human Contact' was released to widespread acclaim last year, with many now finally getting the chance to see the strong first offering from the York outfit live. They will be performing on the Thursday of 110 Above Festival, and what a way to kick things off. Festival-ready hits from the album include 'Hostages' and 'Hall of Fame', so make sure you check them out before the festival!
Elsewhere, the likes of Black Honey, Alfie Templeman, Baby Queen and Yonaka will be on the top of many lists during the weekend, with plenty of selection across one of the finest lineups of 2021. Vistas will be keen to back up their highly regarded 2020 debut 'Everything Changes in the End' with some strong festival performances this summer, whilst breakthroughs further down the lineup could be on the cards for the likes of Radio 1 tipped Luke Royalty, Coach Party, Talkboy and The Clause.
So what can we expect from the festival itself? Regarded as 'indie's best kept secret', 110 Above Festival has built its reputation as an independent, unique and intimate setting for music lovers to gather together and watch some of the best artists, both new and established. With four contrasting stages of music – The Main Stage, The Meadow, The Gopsall Inn and Old Town Hall – 110 Above offers a different experience to the traditional UK festivals and is visited from far and wide each year as a result.
From rare acoustic performances to the energy of a main stage headline set, a trip to Gopsall Hall Farm won't disappoint. With live music finding its feet again as we edge towards normality, there is still an opportunity to get your hands on tickets to what is set to be one of the festivals of the summer. 110 Above takes place from 12th-15th August, you can find very limited resale tickets HERE. Full lineup below: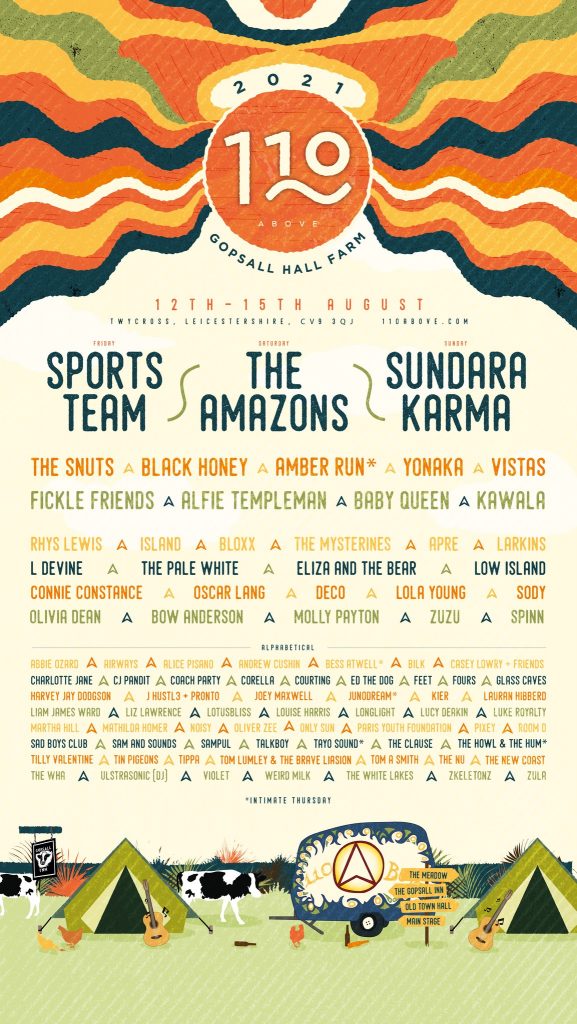 Follow us on our socials:
…
If you haven't already, make sure you check out our Fantasy Pints Podcast, where we interview a different guest each week and ask the one common question – "if you could go for a drink with any three musicians past or present, who would you choose any why?" Latest episode below!