There's nothing like a major football tournament in the sunshine to bring people together, as we learnt back in the summer of 2018. So, after what has been an incredibly tough year for all, many are now relishing the prospect of Euro 2020 finally getting underway on Friday. Scotts have further fuelled the buzz with the announcement of 'Football Fest', bringing together music and sport in collaboration with new music gurus, This Feeling.
The first event will be held on Saturday at The Bread Shed in Manchester, bringing forward an array of the finest UK musical talent to warm fans up for the big games ahead. There are seven different events in total, with Trampolene and Megan Wyn performing at the first show on June 12th.
Also performing at Football Fest will be the Lightning Seeds, which will be music to the ears of England fans. The band, of course, are responsible for the iconic track 'Three Lions', which has been a staple fan favourite at all major tournaments since its release in 1996. The full lineup of artists is as follows.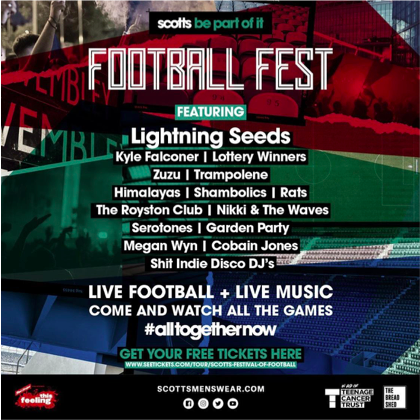 Saturday, June 12th, 2PM kick-off: Wales v Switzerland, featuring Trampolene and Megan Wyn.
Sunday, June 13th, 2PM kick-off: England v Croatia, featuring Lottery Winners and Serotones.
Monday, June 14th, 2pm kick-off: Scotland v Czech Republic, featuring Kyle Falconer and Shambolics.
Wednesday, June 16th, 5pm kick-off: Wales v Turkey, featuring Himalayas and Nikki & The Waves.
Friday, June 18th, 8pm kick-off: England v Scotland, featuring Zuzu and Garden Party.
Sunday, June 20th, 5pm kick-off: Wales v Italy, featuring The Royston Club and Cobain Jones.
Tuesday, June 22nd, 8pm kick-off: England v Czech Republic, featuring The Lightning Seeds, Rats and Shit Indie Disco DJs.
Head here for a chance to attend the unique events, which will all include opportunities to donate to the Teenage Cancer Trust. Or check out scotts and This Feeling's recent project to raise money for the Music Venue Trust, the Artists United Collective's cover of 'All Together Now' here.
Follow us on our socials:
…
If you haven't already, make sure you check out our Fantasy Pints Podcast, where we interview a different guest each week and ask the one common question – "if you could go for a drink with any three musicians past or present, who would you choose any why?" Latest episode below!