Their annual residency at Castlefield Bowl has become a firm fixture in the Manchester music calendar, and in 2023 the Hacienda Classical will perform a record breaking 7th show at the venue on Saturday 8th July. The news aligns with FAC51 The Hacienda rounding off its 40th anniversary year with a sold out Depot Mayfield gig and the BBC2 broadcast of "The Hacienda : The Club That Shook Britain".
The show once again forms part of the annual "Sounds Of The City" series of Manchester gigs, with Hacienda Classical now booked for all but one of the eight years since 2016. Special guests including US house pioneers Roger Sanchez and Todd Terry, as well as New Order & Joy Divison icon Peter Hook, all form part of the 2023 lineup.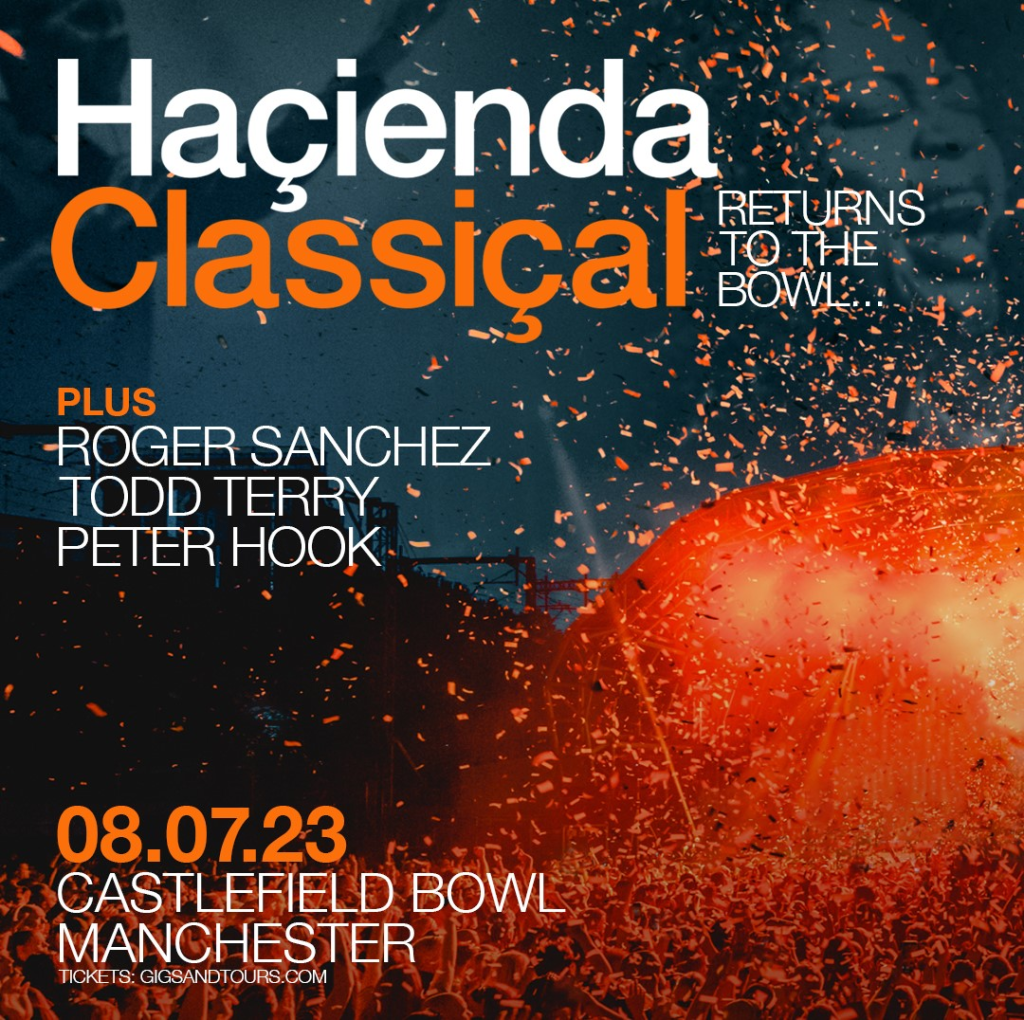 Tim Crooks will once again lead the collective of artists and musicians on stage, including DJ Graeme Park and the Manchester Camerata, performing well-known favourites and new versions of club classics all mixed continuously into one non-stop set. Tim says: "Haçienda Classical in the Castlefield Bowl is the highlight of my year and I'm thrilled to be performing for a seventh year to the best audience in the world. It's always an unforgettable experience."
Peter Hook commented: "I'm so happy to be coming back to 'Sounds of The City' in 2023. I can't believe this will be our seventh year! Amazing! Without a doubt The Hacienda and its crowd know just how to light this city up and party like there's no tomorrow. Tony and Rob would be so proud."
All Hacienda Classical's Castlefiled Bowl shows have sold out in quick time, so act fast on Friday 4th November at 9AM here – https://gigst.rs/HCSOTC.
…
Follow us on our socials:
"If you could go out for a drink with any three musicians, past or present, who would you choose and why?" – That's what we ask our guests on the Fantasy Pints Podcast! Season 2 is underway now, with the latest episode below. You can check out all episodes on Spotify, Apple and YouTube, including interviews with DMA's, The Wombats, Jamie Webster, Phoenix Nights' psychic Clinton Baptiste, impressionist Scheiffer Bates and plenty more!