A cryptic billboard has popped up and circulated on social media today, simply saying 'God Bless The Band – 25.09.21'. Of course, the phrase is associated with the Courteeners as the lyrics are derived from their biggest hit and undisputed indie floorfiller, 'Not Nineteen Forever'.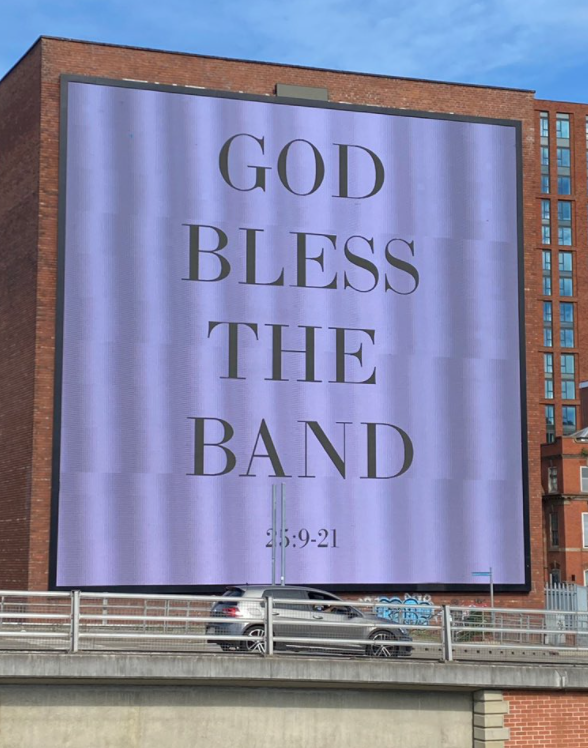 So what exactly is the poster referring to? Based on the band's track record, and with the date in question being a Saturday, we can only assume it refers to the next 'big gig'. Although divisive amongst music fans, broadly due to the 'lad culture' associated with the band, Courteeners undoubtedly possess the ability to pull in a big crowd, particularly in their home city of Manchester.
In 2013, the band first dipped their toe in the water of the outdoor Manchester homecoming shows, when they graced Castlefield Bowl as part of the 'Sounds of the City' series. Two years later, Courteeners would play Heaton Park for the first time, albeit with a slightly limited capacity. In 2017, the band played a poignant show at Emirates Old Trafford cricket ground, just days after the tragic events at Manchester Arena. And in 2019, they played their biggest show to date, when Courteeners returned to a 50,000 capacity Heaton Park.
So, where do they go next? The most likely option is the Etihad Stadium. Frequently used for music events in the past, Manchester City's stadium is the most logical next step on the local ladder. Courteeners supported The Stone Roses there back in 2016, and as you'll see in the image below, it was pretty impressive for a support act. You can guarantee it gave the band the taste for a headline gig there one day…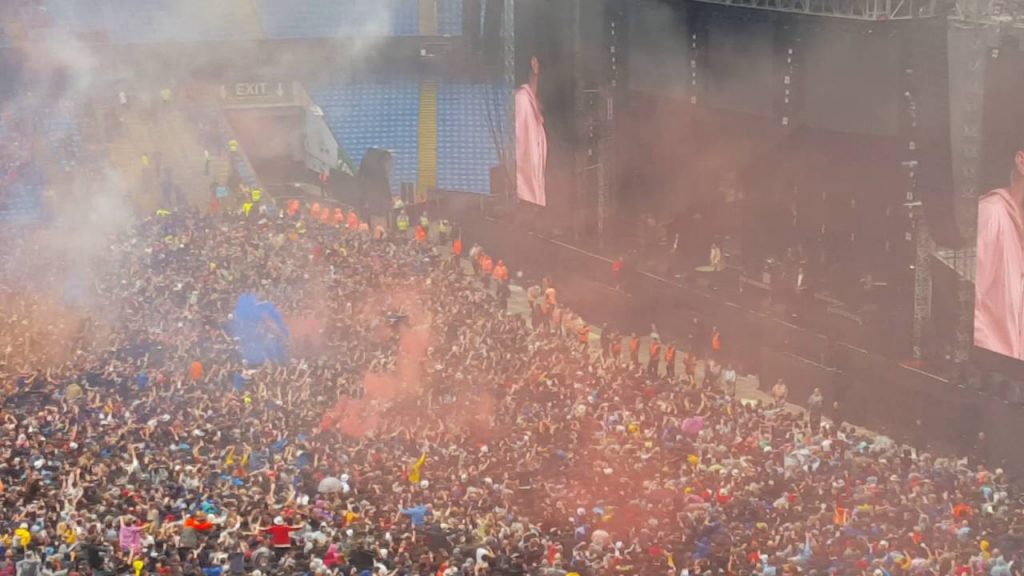 However, Liam Fray is famously a Manchester United fan, which doesn't mean too much in the grand scheme of things, but does lead us onto the next option. Could they play Old Trafford football stadium? Fray was a ball boy at the ground in his youth and 'Not Nineteen Forever' was used as the open top bus parade anthem when Manchester United won their 20th Premier League title, so would the icing on the cake be a hometown Courteeners show there? The only issue is Old Trafford rarely plays host to music events. It isn't unheard of however, with the likes of The Rolling Stones and Billy Joel both playing huge gigs at Manchester United's stadium just three years ago.
Or are we looking too close to home? Courteeners can sell out any gig in Manchester in seconds, but can they do it further away? Fray has described Scotland as the band's 'second home' in the past, so a venture further north could be a safe yet different option. If they're feeling a bit braver, could they head down south? Maybe the likes of Finsbury Park, Victoria Park or Hyde Park could be viable options. Liam will be keen to broaden the Courteeners brand from being associated as a 'northern band', and with a Reading & Leeds festival headline slot potentially on the horizon, could this be a signal of intention of their full UK capability?
Either way, assuming this is a gig announcement, it will be the first time many fans will get to hear the latest record 'More. Again. Forever' live, and you can guarantee tickets will sell fast. We can't wait to hear what is in store on 25th September!
Follow us on our socials:
…
If you haven't already, make sure you check out our Fantasy Pints Podcast, where we interview a different guest each week and ask the one common question – "if you could go for a drink with any three musicians past or present, who would you choose any why?" Latest episode below!