After selling out their all day event at Future Yard in just two hour last week, Liverpool promoters EVOL have announced two more all day events at the Invisible Wind Factory. Yesterday at 6pm, full lineups were revealed for the FestEvol all day events in August, and they certainly didn't disappoint.
EVOL have brought together some of the most exciting names in music today, comprising two lineups of rising and established talent on 7th and 14th August. Kelly Lee Owens will make her solo Liverpool debut alongside Yorkshire synth-infused indie band Working Men's Club on Saturday 7th. Meanwhile on Saturday 14th, The Big Moon, The Orielles and Black Honey will top the bill. The full lineup is as follows.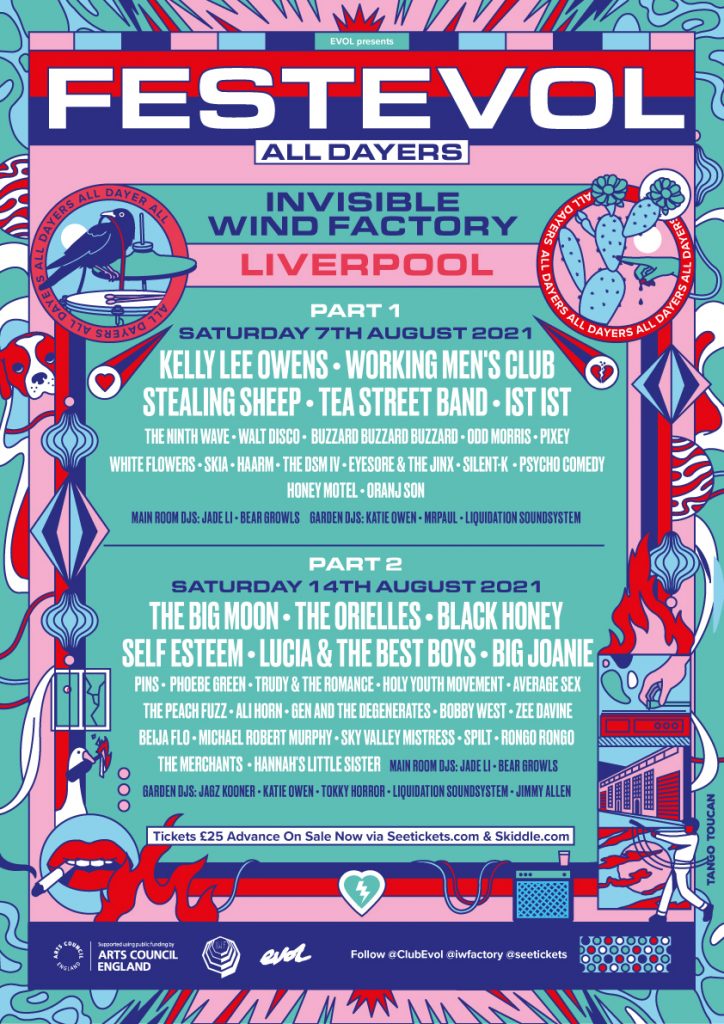 This is clearly a progressive festival celebrating some of the best new music out there today. To see the artists behind some of the best albums of the last two years recognised for their releases is refreshing to see, with 'Walking Like We Do' (The Big Moon), 'Working Men's Club', 'Disco Volador' (The Orielles) and 'Inner Song' (Kelly Lee Owens) all playing a major role in what was an outstanding year for albums in 2020. Black Honey continued the trend in 2021 of course, with the release of the outstanding 'Written & Directed' earlier this year.
Promoter Revo said: "It's a wonderful feeling to be announcing a further two FestEvol events for the region at the much loved Invisible Wind Factory venue. We've had an enforced 18 months out the game and I'm encouraged that consumer confidence in live music has returned. These events are tailor made to showcase some of the brightest and best artists in the country under one roof with a beautiful supporting cast of the best groups from the region and beyond. Both Saturdays are going to be an incredible experience, it's everything we've missed for so long and more."
FestEvol All Dayer Part 1: https://www.seetickets.com/event/festevol-2021-all-dayer/the-invisible-wind-factory/1856698
FestEvol All Dayer Part 2 Tickets: https://www.seetickets.com/event/festevol-2021-all-dayer-part-2/the-invisible-wind-factory/1856700
Follow us on our socials: