New music champions, This Feeling, have provided a critical platform and stepping stone for grassroots UK music talent for a number of years now, with the likes of Blossoms and Catfish and the Bottlemen just two of the names to have graced their club nights early on in their careers.
On August 18th-19th, Bridlington Spa will host their festival, "This Feeling By The Sea", headlined by Red Rum Club and The Lathums, and featuring a whole host of up and coming bands and artists.
This Feeling have now launched a competition to find two new artists to open their biggest festival to date, with Radio X's "most trusted man in music", John Kennedy, on the judging panel.
One of the winners will be from Yorkshire to open Friday's day of music, with the second spot open to anywhere else in the UK, and the prize is an enviable slot at the 3800 capacity Art Deco Royal Hall.
This Feeling's George Holmes commented: "Having been at the forefront of the new music scene for the past 17 years, This Feeling prides itself on bringing you the best new music first. You just have to look at our line up for This Feeling By The Sea, where all the acts playing have done shows in small capacity venues on their way up on This Feeling nights up and down the country.
"With this in mind, we are looking for a regional act (Friday) and national act (Saturday) to open up each day and have the chance to share the stage with The Lathums, Red Rum Club, Lottery Winners, The K's and many more."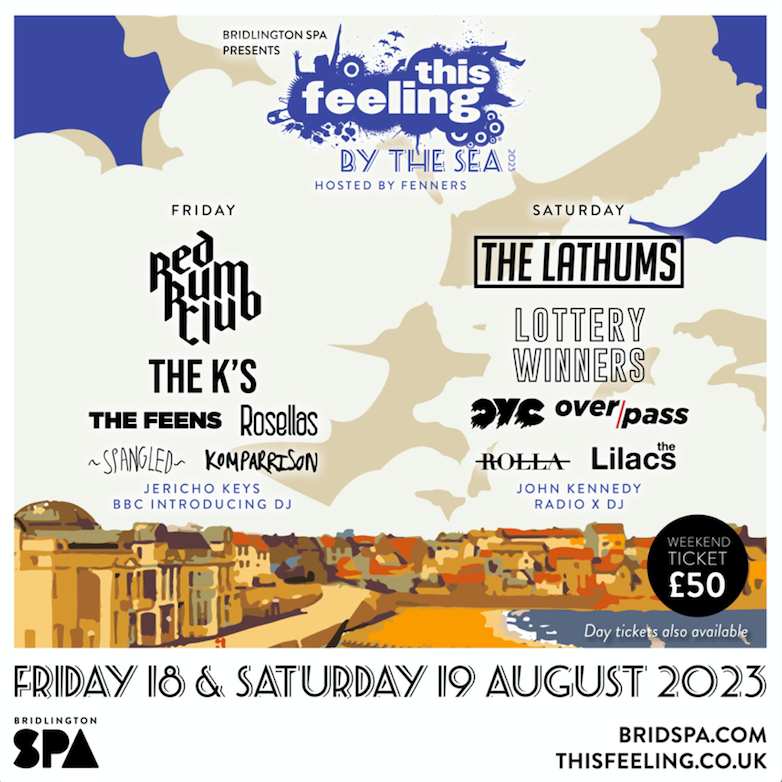 Mark Lonsdale, General Manager of Bridlington Spa, adds: "We are delighted to be able to offer the opportunity for upcoming bands to play the inaugural This Feeling By The Sea Festival here in Bridlington, where they will join names such as David Bowie, The Rolling Stones and Oasis who have previously played here, as well as this year's brilliant festival headliners Red Rum Club and The Lathums."
Artists can enter the competition by submitting an application HERE by Sunday, July 23rd. The winners will be announced on July 29th. 
Remaining tickets for This Feeling By The Sea are available HERE, priced at £25 for Friday, £30 for Saturday, or £50 for the weekend. 
…
Follow us on our socials:
"If you could go out for a drink with any three musicians, past or present, who would you choose and why?" – That's what we ask our guests on the Fantasy Pints Podcast! Seasons 1 & 2 are available now. You can check out all episodes on Spotify, Apple and YouTube, including interviews with DMA's, Clint Boon, Robbie Knox, The Wombats, Jamie Webster, Clinton Baptiste, Scheiffer Bates, Omid Djalili and plenty more!