Following the news that Leigh Francis would be taking his much-loved characters on the road for the first time in 2024, tickets have been flying out with several venues already sold out.
So much so that the BAFTA-award-winning Yorkshire comedian has now announced extra dates for his 24-show "My First Time" UK Tour, going on sale this Friday.
The four extra dates will take Leigh to Aylesbury, Ipswich, Stoke-On-Trent and Swansea, along with the previously confirmed visits to Sheffield, Halifax, Salford, York, Glasgow, and more.
Leigh will also be performing three highly anticipated hometown shows in Leeds to round off the extensive tour, and you can check out the full list of dates in the poster below.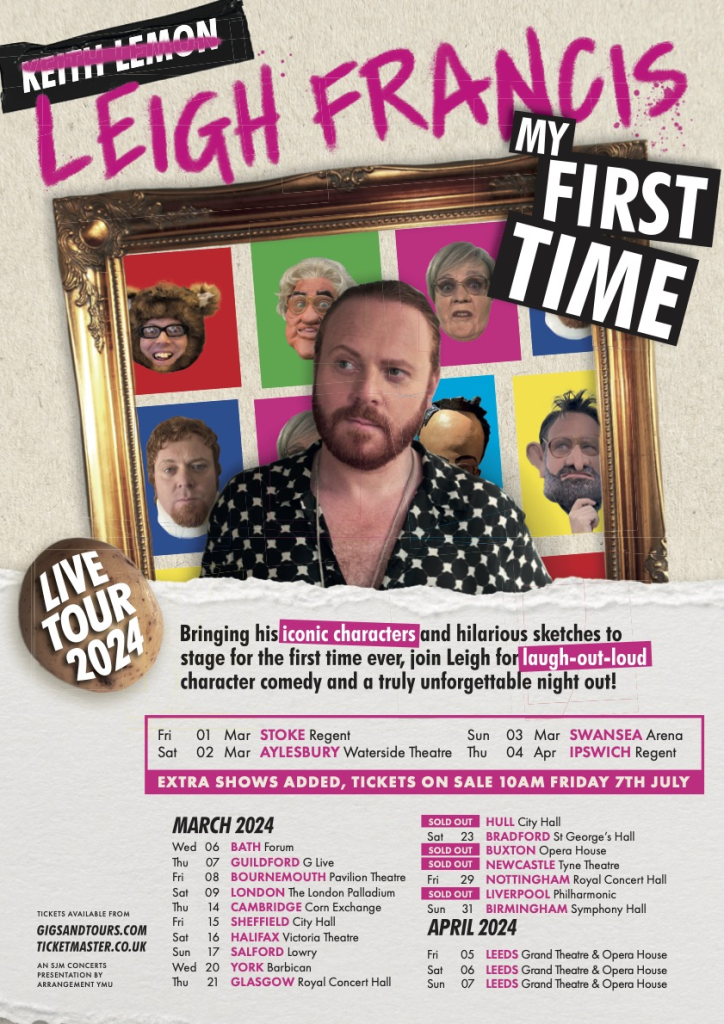 So what do we know so far? Leigh will be bringing the likes of Keith Lemon and Avid Merrion into a live environment for the first ever time, and will also be letting fans see the real Leigh Francis behind the characters.
He has promised plenty of audience interaction and fun, and commented: "Hey, really exciting news! Well exciting for me! I hope it's exciting for you! Or at least provokes some sort of interest! I mean, just look how many exclamation marks there is in this quote! It's definitely news with exciting intent! 
"So what is this exciting news? I'm doing my first ever tour! Never done one before. It's gonna have masks in it! The Bear, Avid Merrion, Amanda Holden's Gran, not her actual gran but me playing her. I'll also be playing Keith Lemon, I look just like him!
"It's me doing all the characters I do that hopefully have the intent to provoke hilarity! So many exclamation marks, and the word 'intent' and 'provoke' twice! I'm excited! Come see ME being other people LIVE for the first time! It'll be your first time and my first time! Hence the title of the tour MY FIRST TIME! (There's another exclamation mark) how exciting!"
Tickets are on sale at gigsandtours.com and ticketmaster.co.uk. Tickets for the extra dates are available from 10am on Friday 7th July.
…
Follow us on our socials:
"If you could go out for a drink with any three musicians, past or present, who would you choose and why?" – That's what we ask our guests on the Fantasy Pints Podcast! Seasons 1 & 2 are available now. You can check out all episodes on Spotify, Apple and YouTube, including interviews with DMA's, Clint Boon, Robbie Knox, The Wombats, Jamie Webster, Clinton Baptiste, Scheiffer Bates, Omid Djalili and plenty more!