As far as tribute acts go, one band has been leading the way for many years now. The Clone Roses set out to honour The Stone Roses 25 years ago, and they will be marking this anniversary in style next year. On Saturday 13th May 2023, the band will play their biggest show yet at the iconic Heaton Park, a Manchester venue holding a special place in The Stone Roses timeline.
They will follow in the footsteps of the iconic Manchester band, who famously played their "resurrection" reunion shows at Heaton Park back in 2012. It follows last year's resounding success, 'Spike Island – The Resurrection', which broke records as "the biggest tribute-themed festival the world has ever seen".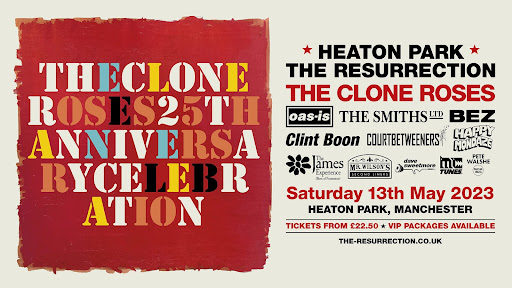 Gav Scott, The Clone Roses' Ian Brown, commented: "We've been wanting to do Heaton Park for ages but it's such a popular and busy park. When the opportunity finally came, we couldn't say no! Over the years, we've played the Blackpool Empress Ballroom, Spike Island, and now this… it feels like we've completed The Stone Roses cycle to a certain degree!
"We'd love to celebrate our 25th Anniversary in the City that have been so loyal to us from day one. I think people have accepted that we really put the effort into recreating a Roses show and they are really supportive of what we do. In terms of the day itself, there's going to be an absolute feast of Manchester music!"
Fans will also be treated to DJ sets from the likes of BEZ (Happy Mondays), CLINT BOON (Inspiral Carpets), MC TUNES, MR WILSON'S SECOND LINERS, DJ PETE WALSHE (ex-Pacha) and longstanding friend DJ DAVE SWEETMORE There will be live sets from fellow cloners including OAS-IS, THE SMITHS LTD, THE COURTBETWEENERS, HAPPY MONDAZE, and THE JAMES EXPERIENCE. 
Tickets for the event go on sale on Saturday 5th November 2022 @ 10AM. Tickets are priced from £22.50. VIP Packages are available. Get yours at: www.the-resurrection.co.uk.
…
Follow us on our socials:
"If you could go out for a drink with any three musicians, past or present, who would you choose and why?" – That's what we ask our guests on the Fantasy Pints Podcast! Season 2 is underway now, with the latest episode below. You can check out all episodes on Spotify, Apple and YouTube, including interviews with DMA's, The Wombats, Jamie Webster, Phoenix Nights' psychic Clinton Baptiste, impressionist Scheiffer Bates and plenty more!