Previous winner of 'Best Medium Festival' and one of the UK's most unique music and science experiences, Bluedot has announced the next names for 2022, along with details of day splits and a brand new VIP area at this year's event. The lineup welcomed new additions including Kojey Radical, Mary Anne Hobbs and Warmduscher, along with science headliners Tim Peake and Brainiac Live. 
The new VIP Village is to be launched in partnership with Bruntwood, with an award-winning selection of restaurants and food brands confirmed such as Hawksmoor, Where The Light Gets In and District. The new VIP experience will raise money for the charity Eat Well MCR, which helps to deliver up to 1,000 meals a week, partnering with organisations in Greater Manchester that support people sidelined by poverty.
The much anticipated day splits landed alongside the official day ticket release on Friday, with the new lineup poster below.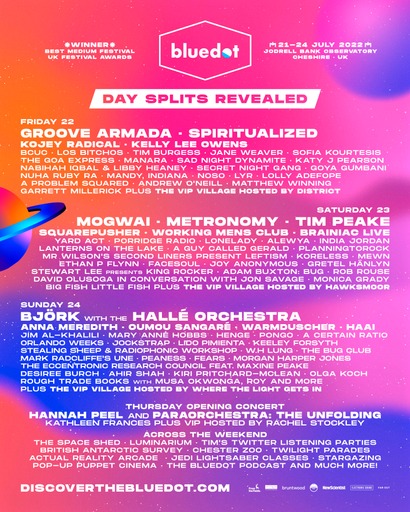 Festival director, Ben Robinson commented: "After a two-year hiatus, our fifth instalment of bluedot looks set to be one of our best yet. Welcoming Tim Peake to Jodrell Bank alongside huge musical acts including Björk, Groove Armada and Mogwai to excite and inspire festival goers under the Lovell Telescope is going to be really special. Jodrell Bank is a jaw-dropping location and the perfect place to be inspired as a family by the wonders of science and culture, with hands on workshops, electrifying experiences and hilariously engaging shows. We can't wait to be back in action."
Bluedot Festival 2022 will take place from 21st to 24th July. For tickets and information visit: discoverthebluedot.com.
…
Follow us on our socials:
"If you could go out for a drink with any three musicians, past or present, who would you choose and why?" – That's what we ask our guests on the Fantasy Pints Podcast! Season 2 is underway now, with the latest episode below. You can check out all episodes on Spotify, Apple and YouTube, including interviews with DMA's, Jamie Webster, Phoenix Nights' psychic Clinton Baptiste, impressionist Scheiffer Bates and plenty more!