Leeds is a city with a strong musical pedigree. Stacked with popular venues such as the Brudenell Social Club, Belgrave Music Hall and Oporto, the home of Leeds Festival and Live at Leeds, and of course who could forget the nighlife hotspot of The Stone Roses Bar?
Kaiser Chiefs flew the flag for Leeds throughout the noughties indie era, with the likes of Yard Act now taking up the mantle, and it is a city continually evolving musically. New artists and events are surfacing on a regular basis, and now the latest chapter in the city's music scene is ready to launch…
The 360 Club have teamed up with a rock band recently backed by BBC Radio 6 in the shape of FUDGE, to curate a one-day festival showcasing innovative and exciting artists coming out of Leeds. "Nothing But Noise" will take place at Belgrave Music Hall on this coming Saturday – May 21st!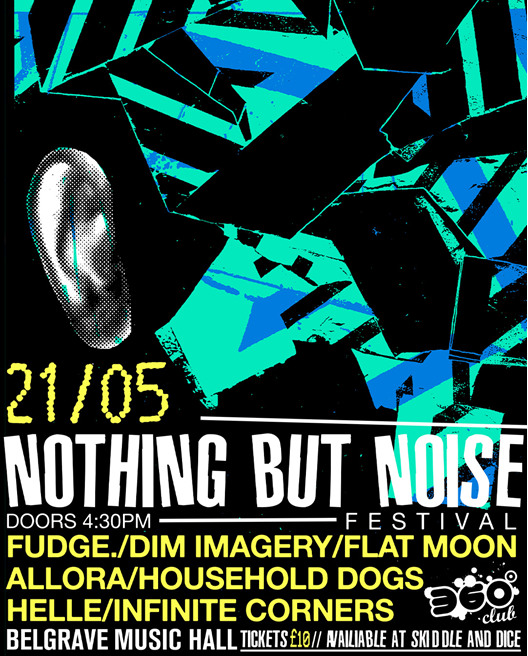 It is the first date on Fudge's co-headline UK tour with Dim Imagery, and what better way to celebrate than with a hometown day festival? It also coincides with the release of their new five-track EP, "The Town Hall Session", which is out on Saturday.
It promises to be an unmissable event, especially for locals around West Yorkshire who will get to see some of the region's up and coming bands in action. Ticket information and the link to Nothing But Noise's event page is below.
TICKETS £10: https://www.skiddle.com/e/36030548
EVENT PAGE: https://www.fb.com/events/7136531523088757
…
Follow us on our socials:
"If you could go out for a drink with any three musicians, past or present, who would you choose and why?" – That's what we ask our guests on the Fantasy Pints Podcast! Season 2 is underway now, with the latest episode below. You can check out all episodes on Spotify, Apple and YouTube, including interviews with DMA's, The Wombats, Jamie Webster, Phoenix Nights' psychic Clinton Baptiste, impressionist Scheiffer Bates and plenty more!