Following the release of latest album, 'Screen Violence', back in August, Scottish indie pop group, Chvrches set out on a UK tour, stopping at Edinburgh's Corn Exchange, Newcastle City Hall, London's Brixton Academy and Birmingham Academy, before the finale at Manchester's O2 Apollo on Saturday 19th March!
The band's fourth album was released to widespread acclaim last year, including singles 'He Said She Said' and the exciting collaboration with Robert Smith of The Cure on second single, 'How Not To Drown', which posed the question for gig-goers – would we see a special guest appearance from Smith following his surprise Brixton encore arrival?
The setlist was understandably dominated by 'Screen Violence', opening with 'He Said She Said' and performing six other tracks from the latest record. But there was plenty of room for fan favourites from the earlier three albums, with the likes of 'Leave a Trace' making an early appearance and 'Never Say Die' closing the main set, before 'The Mother We Share' and 'Clearest Blue' closed the encore in style.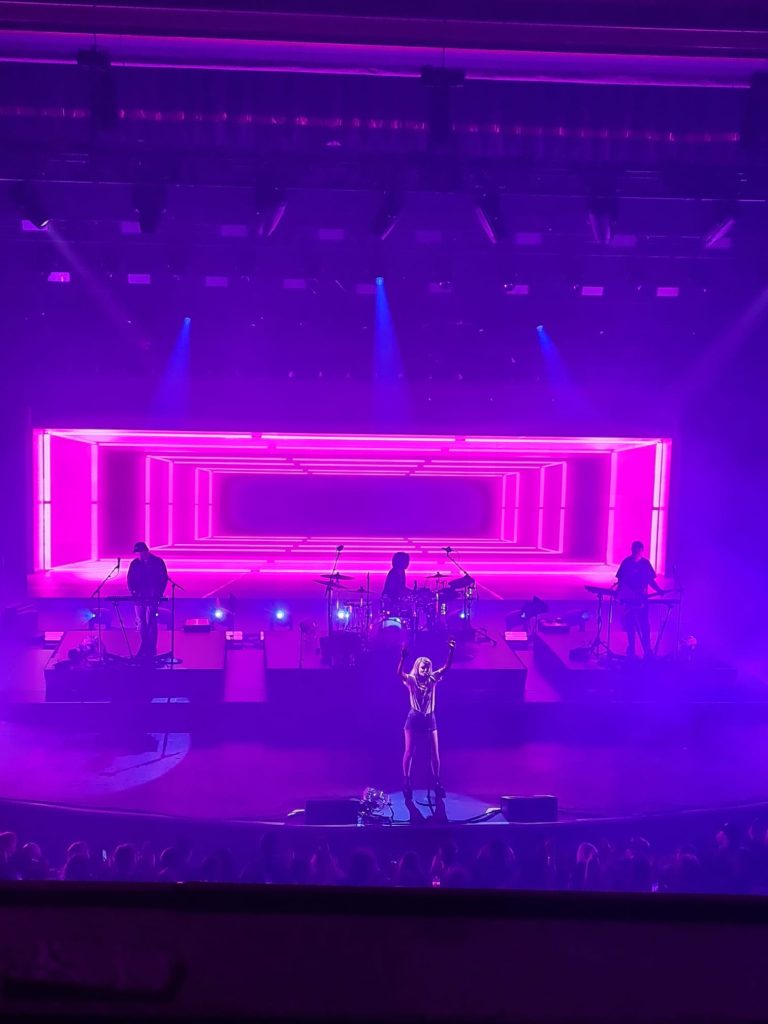 Throughout the gig it was clear that the band had an affinity with Manchester, despite lead singer Lauren Mayberry's admission that she maybe ate too much of the local curry the night before (we hope you're fully recovered Lauren!) And it was a triumphant way to end the tour without doubt; even a scuffle in the crowd couldn't stop the Chvrches party from prevailing, with the band attempting to calm the situation and describing themselves as "more Bad Cop, Shit Cop than Good Cop, Bad Cop".
And whilst there wasn't an appearance from The Cure icon, Robert Smith, the band's stage presence alone was enough for a show without any special guests. The exquisite vocals and charismatic energy of Lauren Mayberry front and centre, and the talented Iain Cook and Martin Doherty either side, was supplemented with the addition of a live drummer, elevating the band's synth indie pop sound to a much bigger offering sonically.
This was Chvrches bigger and better than ever before, on their strongest album tour to date. They'll set off to the U.S. knowing they made their mark on home soil, and surely the festival and headline stages will only get bigger from here…
…
Follow us on our socials:
"If you could go out for a drink with any three musicians, past or present, who would you choose and why?" – That's what we ask our guests on the Fantasy Pints Podcast! Season 2 is underway now, with the latest episode below. You can check out all episodes on Spotify, Apple and YouTube, including interviews with DMA's, Jamie Webster, Phoenix Nights' psychic Clinton Baptiste, impressionist Scheiffer Bates and plenty more!