The official anthem has been released and it's time to get excited for the third annual "Dear John" concert in aid of War Child UK. Founded by Sepp Osley of Blurred Vision, the concert is a tribute to the legacy of The Beatles' icon, John Lennon, and will be streamed to a global audience this Saturday 9th October!
The anthem, entitled "Dear John", has been created by Osley and his brother Sohl, and performed by Blurred Vision alongside Mollie Marriott and Peter Frampton. Fittingly a song about peace and hope, the track pays homage to Lennon's musical legacy, with Frampton commenting: "I couldn't be more thrilled and honoured to have been a part of the Dear John track. Finally, Mollie, Sepp and I got to work together and it's something so special. I'm so happy I could be with you on video during the Dear John concert. Happy Birthday John Lennon!"
The single was released yesterday in anticipation for the weekend's big event. The 2021 edition of the acclaimed concert will see a strong list of artists performing tracks from the Lennon/Beatles back catalogue and spreading messaages of hope and positivity. The list of major international stars set to appear includes; Martin Freeman, Matt Lucas, Jack Savoretti, Fearne Cotton, Peter Frampton, Yola, Matt Sorum, Irvine Welsh, Pam Hogg and Mark Williams. It will be hosted by BBC legend 'Whispering' Bob Harris, with Blurred Vision performing as the house band.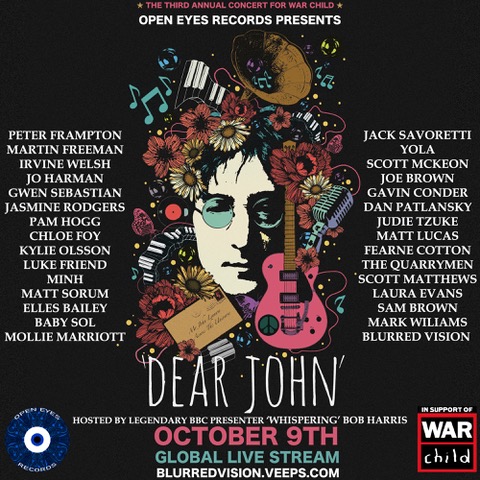 Sepp Osley says: "Never in my wildest dreams could I have imagined the success that this humble event conjured in 2020 during the height of the pandemic. It all began with a simple concept of celebrating the legacy that John Lennon left behind. A legacy of peace and unity and love on a global scale, and now to be able to perform these timeless songs with so many heroes and contemporaries of the music world, while raising money for this incredible charity at such a crucial time, is something I could never have conceived or believed when I began my tumultuous journey on this planet." 
A one-off ticketed event, all donations and net proceeds raised from the show will go direct to the War Child charity. TICKETS ARE ON SALE NOW: HTTPS://BLURREDVISION.VEEPS.COM/ (The show will be available for rewatch until 17th October)
…
Follow us on our socials:
…
…
If you haven't already, make sure you check out our Fantasy Pints Podcast, where we interview a different guest each week and ask the one common question – "if you could go for a drink with any three musicians past or present, who would you choose any why?" Latest episode below!