Last week, James announced the release of their new album 'All The Colours Of You'. Their sixteenth studio album will be released on 4th June 2021, with the title track now available across all platforms.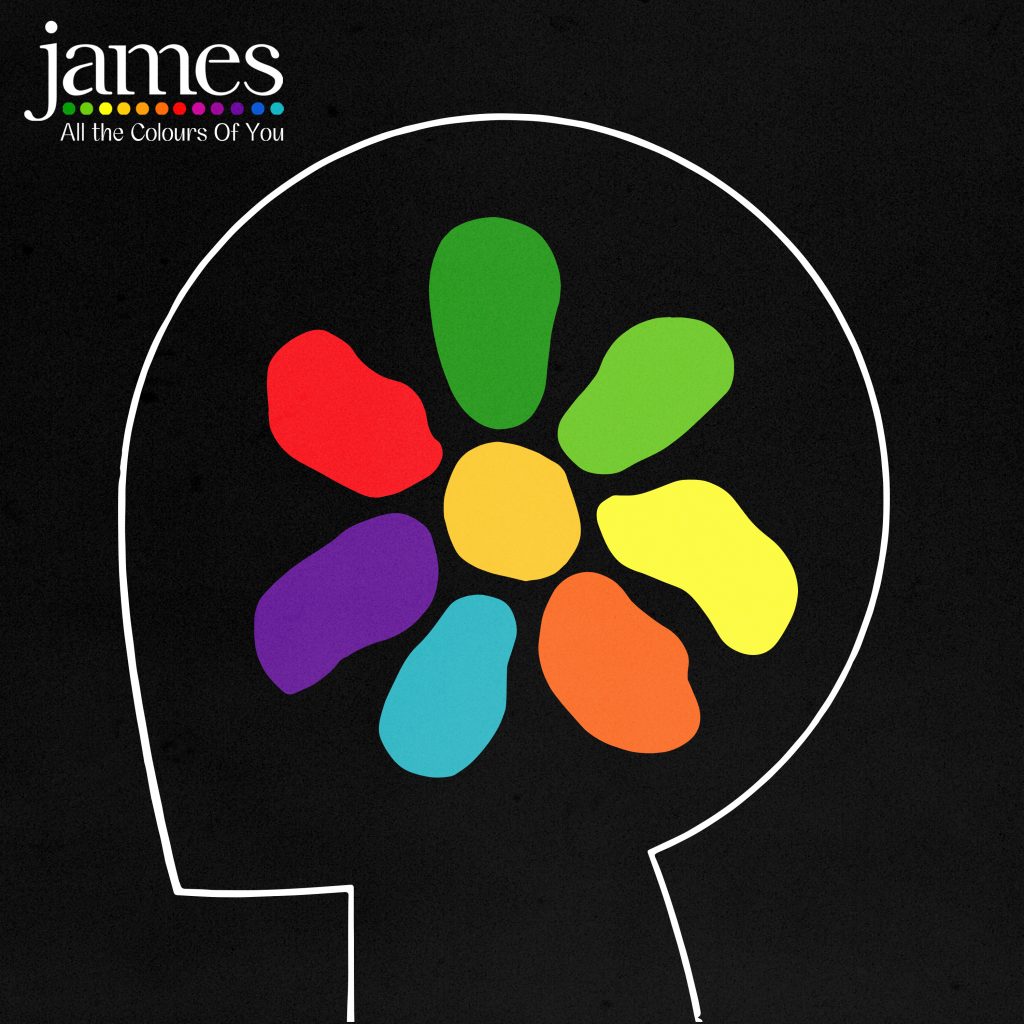 Partly recorded pre-COVID, the album was produced by the Grammy award winning Jacknife Lee (U2, REM, Taylor Swift, Snow Patrol, The Killers). On production duties with James for the first time, he brought a fresh approach to their sound, working remotely from his studio liaising with Tim Booth (his Topanga Canyon neighbour) and Jim Glennie from the band, re-imagining their demos and capturing the band in all their virtual glory.
The result is a record with the 'most arena-ready and fresh tracks of their 38-year career'; the sound of one of Britain's best bands deconstructed and reassembled by one of the world's most renowned producers.
Tim Booth says: "With all the shit that went down in 2020 this was a miraculous conception and another big jump forward for us on the back of the last three albums. I hope it reflects the colours of these crazy times. Sweet sixteen is a proper album, no fillers and is up there with our best. With love, Tim."
Jim Glennie commented: "I'm pleased, proud and surprised by this record in equal amounts. Jacknife has pushed us and the songs somewhere new and it's very exciting. After all these years, we are still challenging ourselves and our fans. Enjoy."
From the first line on the album opener 'ZERO' ("We're all gonna die"), Tim addresses difficult subjects throughout the 11 tracks, with themes ranging from politics and climate change to dealing with the loss of a loved one during the pandemic.
'Miss America' examines the country's tarnished image through the eyes of a beauty pageant ("Miss America's wearing thin, she's all tiaras and glamour") while 'Beautiful Beaches' focuses on the fires that ravished California and follows a vision Tim had of an earthquake which caused his family to flee for refuge ("That life we left behind, we're racing down to those beautiful beaches").
The first single from the album, 'All The Colours of You', tackles the Trump years head on. Based in the USA for many years, Tim witnessed first hand the divisiveness and hatred stoked by the former President. Highlighting the sharp rise of white supremacy during his reign, the track ultimately offers hope of a new and brighter future with the refrain "Love all the colours, all the colours of you".
'Recover' is perhaps the most poignant song on the record, dealing with the death of Tim's father-in-law from Covid-19 in the UK. A hopeful track with a delicate production, it's an uplifting and joyful song and honours a loved one's legacy and spirit; a celebration of life not the sadness of death which affirms "We will remember how to pass your spirit on".
'All The Colours of You' will be available on the following formats:
Standard CD
D2C Deluxe CD | with bonus Artwork / Photos / Pictures in a DVD Hardback Book package
Standard LP
D2C Deluxe LP | Swirl coloured vinyl
D2C Deluxe LP | Picture disc vinyl
Indies and HMV Deluxe LP | Multi-coloured vinyl
Cassette
Pre-order here: https://james.lnk.to/AllTheColoursOfYouSo
'All the Colours of You' track listing is as follows:
ZERO
All the Colours of You
Recover
Beautiful Beaches
Wherever It Takes Us
Hush
Miss America
Getting Myself Into
Magic Bus
Isabella
XYST
UK TOUR with Special Guests HAPPY MONDAYS:
NOVEMBER
Thu 25 LEEDS First Direct Arena
Fri 26 BIRMINGHAM Utilita Arena
Sun 28 CARDIFF Motorpoint Arena
Tue 30 GLASGOW SSE Hydro
DECEMBER
Wed 01 DUBLIN 3 Arena
Fri 03 MANCHESTER Arena
Sat 04 LONDON Wembley Arena
Remaining tickets are available here: https://wearejames.com/live/
Photo credit: Laura Toomer
…
Do you want to write for Northern Chorus? Read more on the following link and get in touch!
https://www.northernchorus.co.uk/2021/02/18/contributors-we-need-you/
…
Follow us on our socials: