Following their successful sold-out recreation of the iconic Stone Roses Spike Island gig, the UK's tribute band trailblazers are making more history next month, as The Clone Roses headline Manchester's Heaton Park on Saturday 13th May.
It sees the Clones return to the venue that hosted the Roses' 2012 reunion shows, and also gives the band a chance to celebrate their own 25th Anniversary.
'Spike Island – The Resurrection' broke records as "the biggest tribute-themed festival the world has ever seen", and Heaton Park is the next step up. The Clone Roses will be warming the stage up for the likes of Parklife and Courteeners this year, which highlights the magnitude of the band's achievements, taking the tribute idea further than anyone could have imagined 25 years ago.
A host of the UK's favourite tribute bands will be joining the party next month, along with DJ sets from the likes of Clint Boon, Bez, and Dave Sweetmore. The full lineup is below.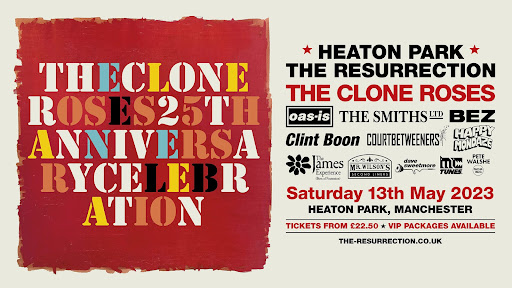 Speaking about 'Heaton Park – The Resurrection' and the 25th Anniversary of The Clone Roses, Gav Scott (the band's answer to Ian Brown) commented: "We've been wanting to do Heaton Park for ages but it's such a popular and busy park. When the opportunity finally came, we couldn't say no! Over the years, we've played the Blackpool Empress Ballroom, Spike Island, and now this… it feels like we've completed The Stone Roses cycle to a certain degree!
"We went on the Saturday and it was strange for us as we weren't really getting into it like everyone else… we were thinking things like "what's Mani wearing," "what's the guitar John is playing," making notes on setlist! Still loved it mind, and we never got to see them first time round so it was an incredible moment for us… That Roses Heaton Park setlist was all the classic songs you'd hope them to play so I've no doubt our show will be very similar to their set in 2012".
All members of the band attending the historic reunion shows over a decade ago, and now it's their time to write their own bit of history at Heaton Park. You can get your hands on tickets to what promises to be one of the best outdoor shows of 2023 here: Heaton Park – The Resurrection (the-resurrection.co.uk)
Follow us on our socials:
"If you could go out for a drink with any three musicians, past or present, who would you choose and why?" – That's what we ask our guests on the Fantasy Pints Podcast! Seasons 1 & 2 are available now. You can check out all episodes on Spotify, Apple and YouTube, including interviews with DMA's, Clint Boon, Robbie Knox, The Wombats, Jamie Webster, Clinton Baptiste, Scheiffer Bates, Omid Djalili and plenty more!