A Stone's Throw Festival will make its debut on the North East coastline later this year, after earlier confirming the likes of Sam Tompkins, BERWYN and Lauran Hibberd for the inaugural festival on Saturday 28th May 2022. Now, they have confirmed the second wave of artists performing at the all day event, including Newcastle's Heidi Curtis and kings of the 80's indie pop mashups, Deco!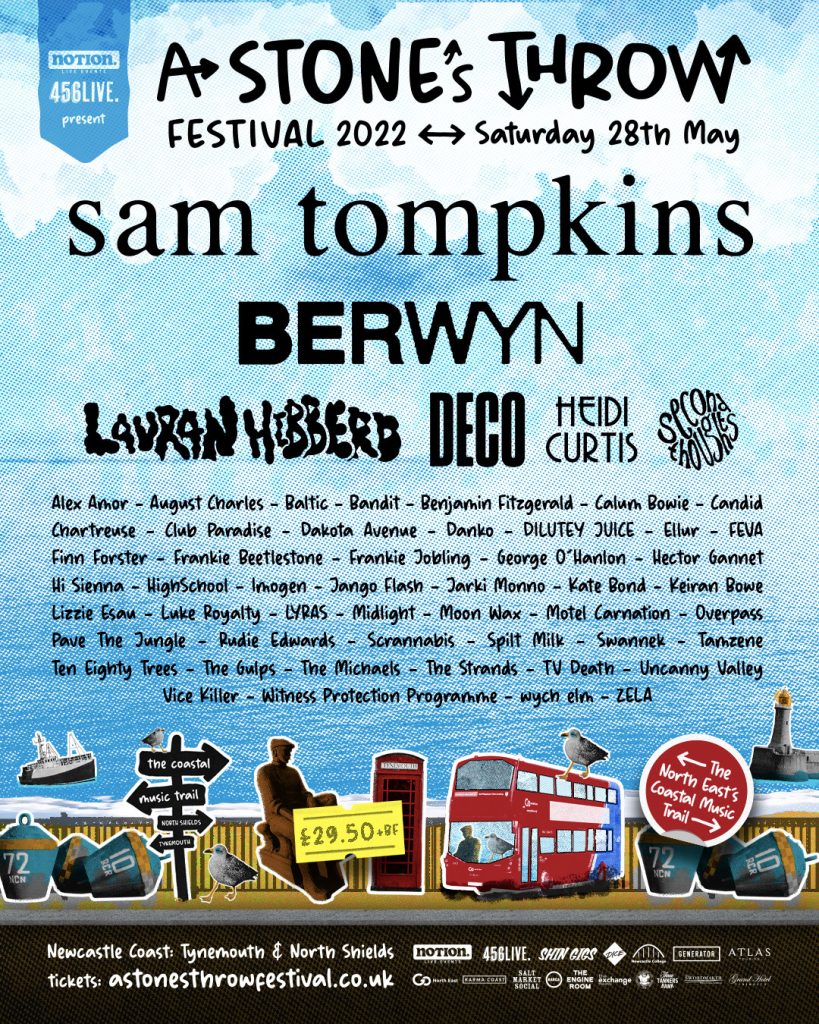 They will be joined by a host of up and coming bands and artists, including plenty of local talent performing across 11 venues such as independent bars and unique spaces. Local bus service, Go North East will provide open top bus journeys to and from the venues, in what's expected to be a memorable day of live music and festivities!
Co-founder Anthony Thompson commented: "On May 28th, 2022, over 60 of the hottest new music acts will descend on Newcastle's coastline, creating a trail of MUST-SEE talent spanning Tynemouth to North Shields! All ticket holders will have access to over ten venues and a bespoke double-decker bus service provided by established local bus company Go North East. We're over the moon to be able to provide such an exciting new music event for North East music fans and we look forward to catching our favourite new artists along Newcastle's coast this May 28th!" 
Tickets for A Stone's Throw Festival 2022 are on sale now, priced at £29.50 – HERE.
…
Follow us on our socials:
"If you could go out for a drink with any three musicians, past or present, who would you choose and why?" – That's what we ask our guests on the Fantasy Pints Podcast! Season 2 is underway now, with the latest episode below. You can check out all episodes on Spotify, Apple and YouTube, including interviews with DMA's, Jamie Webster, Phoenix Nights' psychic Clinton Baptiste, impressionist Scheiffer Bates and plenty more!