Undoubtedly one of UK indie's leading names, The Snuts have released their much-teased new single, 'Zuckerpunch', which premiered as Clara Amfo's 'Hottest Record In The World' on BBC Radio 1. The latest edition of the West Lothian band's rise is another politically charged track, following on from the themes of previous protest single, 'Burn the Empire', both of which followed last year's debut number 1 album, 'W.L.'.
Frontman, Jack Cochrane commented: "Zuckerpunch's broken beat aesthetic reminisces the sampled-up, 8-track golden age of pre-internet music. Lyrically, everything is derived from feelings of screen fatigue, social media burn out and an overwhelming sense of anxiety about the fast moving internet world that is becoming closer by the day a part of us. It depicts hard hitting messages around the more impactful pitfalls of social media, the internet enmass and the protection of your identity and privacy."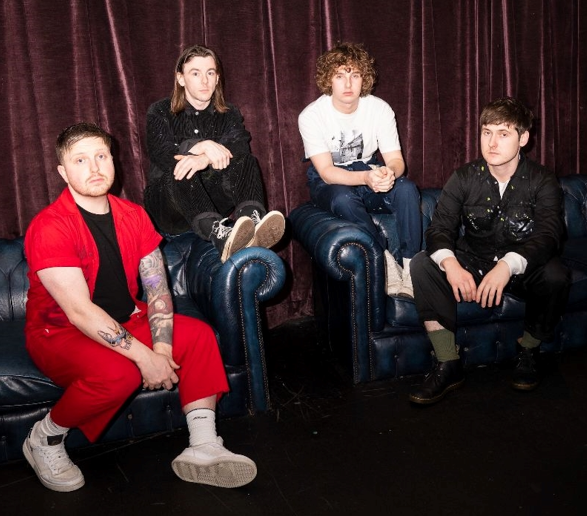 The Snuts are also making a name for themselves on the live stage, and are gearing up for their biggest headline show to date at London's O2 Brixton Academy on April 30th. They recently performed a number of unplugged shows and have been surging up the festival lineup posters this year.
Full tour dates are listed below. Tickets are available HERE. Listen to 'Zuckerpunch' HERE.
THE SNUTS APRIL 2022 TOUR DATES
Wed 27th      Manchester, O2 Academy 
Thurs 28th     Newcastle, Northumbria University SU
Sat 30th        London, O2 Academy Brixton
…
Follow us on our socials:
…
If you haven't already, make sure you check out our Fantasy Pints Podcast, where we interview a different guest each week and ask the one common question – "if you could go for a drink with any three musicians past or present, who would you choose any why?" Check out the latest episode with DMA's on Spotify, Apple, YouTube & more!