With both the music and travel industry now reopening following two years of uncertainty, it's time to pack your suitcases and head to the 'Shiiine On Weekender'. The popular music promoters have announced that this year's festival will take place in Budapest, Hungary, from 6th-9th May 2022, boasting an impressive lineup. Including some of the biggest names in Indie, Dance and more, the festival will be headlined by Peter Hook & The Light, Shed Seven and Cast!
The performances will take place across a host of the city's finest music venues, and fans will also be treated to accommodation packages, a boat party and Britpop-inspired boozy brunches. DJ sets include "Shiiine On: Rave On", Andy Bush and Star Shaped, as well as the exciting announcement of Happy Mondays' dancing phenomenon, Bez!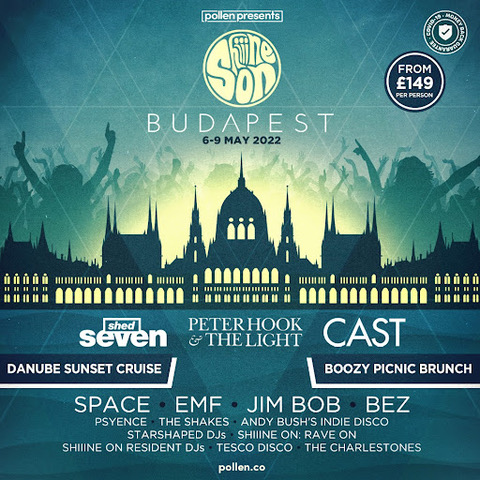 Of course, the three day festival will allow plenty of time for attendees to experience what Budapest has to offer, but you also won't be stuck for things to do at the Shiiine On Weekender, from the outset at welcome drinks until the early hours through to the final headline performance. The festival organisers promise a hassle-free trip for all, with flexible packages catering to all budgets.
Standard Party Passes are priced from £149pp. Packages are available from £199. You can also pay in monthly instalments and book your place for just £30. And finally, a flexible payment scheme is available for group bookings too! Book your tickets here: https://trip.pollen.co/uk/campaign/shiiineon-budapest-2022-1/package/group-size
…
Follow us on our socials:
…
If you haven't already, make sure you check out our Fantasy Pints Podcast, where we interview a different guest each week and ask the one common question – "if you could go for a drink with any three musicians past or present, who would you choose any why?" Check out the latest episode with DMA's on Spotify, Apple, YouTube & more!