New music champions This Feeling have teamed up with scotts menswear to launch the inaugral Rewired Festival, taking place at The Garage (London) and Brudenell Social Club (Leeds) this weekend. The much anticipated shows are on Saturday and Sunday respectively, headlined by Earlestown's finest, The K's!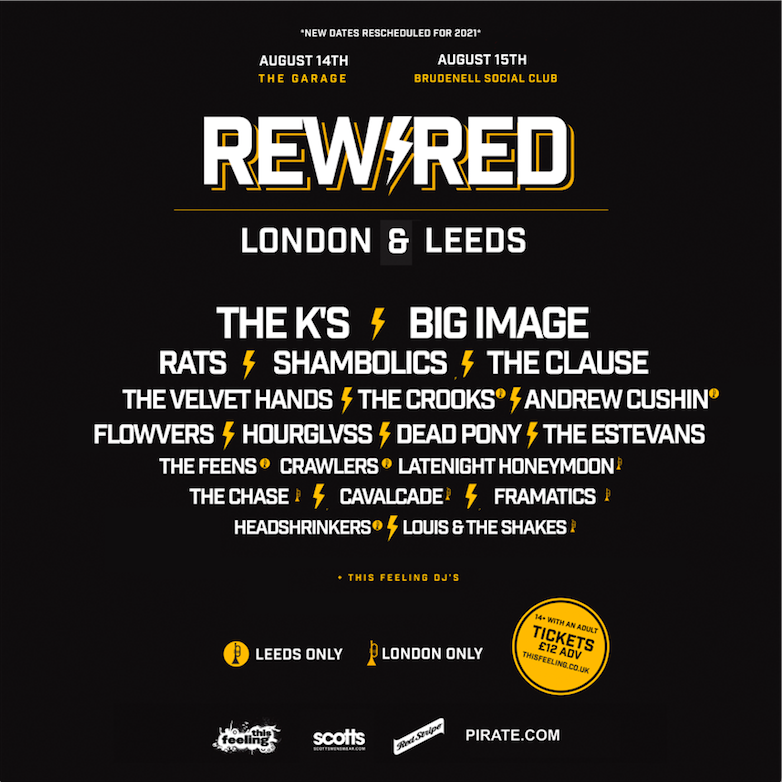 Speaking of the festival, This Feeling founder, Mikey Jonns commented: "Thanks to scotts investment during the pandemic we've been able to massively support new emerging acts and show everyone what they are able to do while the venues were closed. We can't thank them enough for the backing they've given both us & the bands. The pandemic has created a huge pent up desire for live music and we're going to witness the rise of the great new guitar band scene again. Come and find your new favourite band at This Feeling!" 
Paul Ramsdale, Marketing Manager for scotts, says: "Grassroots music has been at the heart of scotts for many years, from supporting grassroots artists to the local gig venues which are the heartbeat of the UK music scene. The grassroots music scene has been one of the hardest hit sectors across the last few years and we felt it our duty to help support wherever we could to ensure all the lockdown creativity had an avenue to greatness post pandemic.
"Music lovers should be excited for the months and years to come with bands and artists working hard alongside This Feeling through the dark times. Now things are opening up, so be prepared for an era of guitar music like never before and rest assured scotts and This Feeling will be front and centre. Be part of it!"
Remaining tickets for the festival are available here at the bargain price of just £12.
…
Follow us on our socials:
…
If you haven't already, make sure you check out our Fantasy Pints Podcast, where we interview a different guest each week and ask the one common question – "if you could go for a drink with any three musicians past or present, who would you choose any why?" Latest episode below!