The BAFTA-award winning comedian behind Keith Lemon and Bo' Selecta, Leigh Francis has announced his first ever live tour.
As well as bringing all of his famous characters to life for the first time on the live stage, 'My First Time' will see Leigh stepping away from the fiction and speaking to audiences as himself on an 18-date run across the UK.
The tour kicks off in Bath on Wednesday March 6th 2024, with dates including Sheffield, Halifax, Salford, and Glasgow (full dates in image below).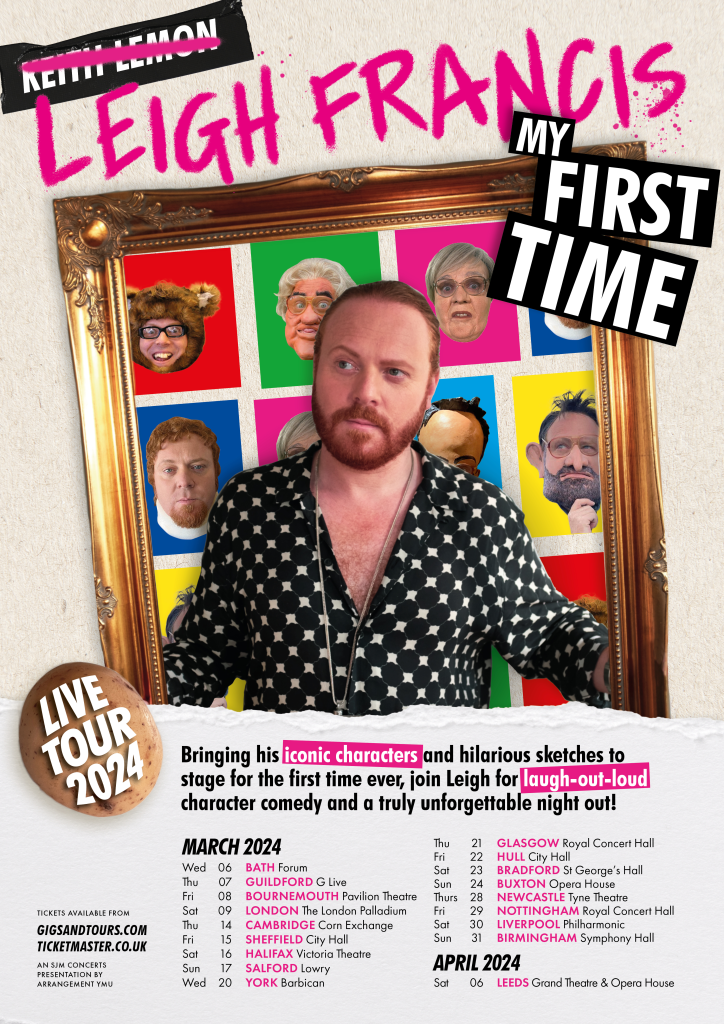 Leigh commented: "It's gonna have masks in it! The Bear, Avid Merrion, Amanda Holden's Gran, not her actual gran but me playing her. I'll also be playing Keith Lemon, I look just like him! It's me doing all the characters I do that hopefully have the intent to provoke hilarity! So many exclamation marks, and the word 'intent' and 'provoke' twice! I'm excited! Come see ME being other people LIVE for the first time! It'll be your first time and my first time!"
Tickets are on sale this Friday from gigsandtours.com and ticketmaster.co.uk.
…
Follow us on our socials:
"If you could go out for a drink with any three musicians, past or present, who would you choose and why?" – That's what we ask our guests on the Fantasy Pints Podcast! Seasons 1 & 2 are available now. You can check out all episodes on Spotify, Apple and YouTube, including interviews with DMA's, Clint Boon, Robbie Knox, The Wombats, Jamie Webster, Clinton Baptiste, Miles Kane, Omid Djalili and plenty more!