It has been one of the most talked about music tours for a long time, and as The 1975's latest run of UK dates draw to a close, we take a look at last week's AO Arena show in Manchester to detail what you can expect at the upcoming Liverpool, Dublin, and Belfast shows.
Their latest record, Being Funny In A Foreign Language, exceeded our expecations. More killer, less filler, would be a good analogy in comparison to its predecessor, and further evidence that this is a band at the peak of their powers, and potentially UK indie's next Glastonbury headliner.
From kissing fans and sucking thumbs to Taylor Swift guest appearances and eating raw meat on stage, this tour has offered up everything from the spectacular to the downright weird. However, as divisive and provocative as Matty Healy and The 1975 may appear to be, their unquestionable talent as a band always shines through. Here is what to expect from the live shows…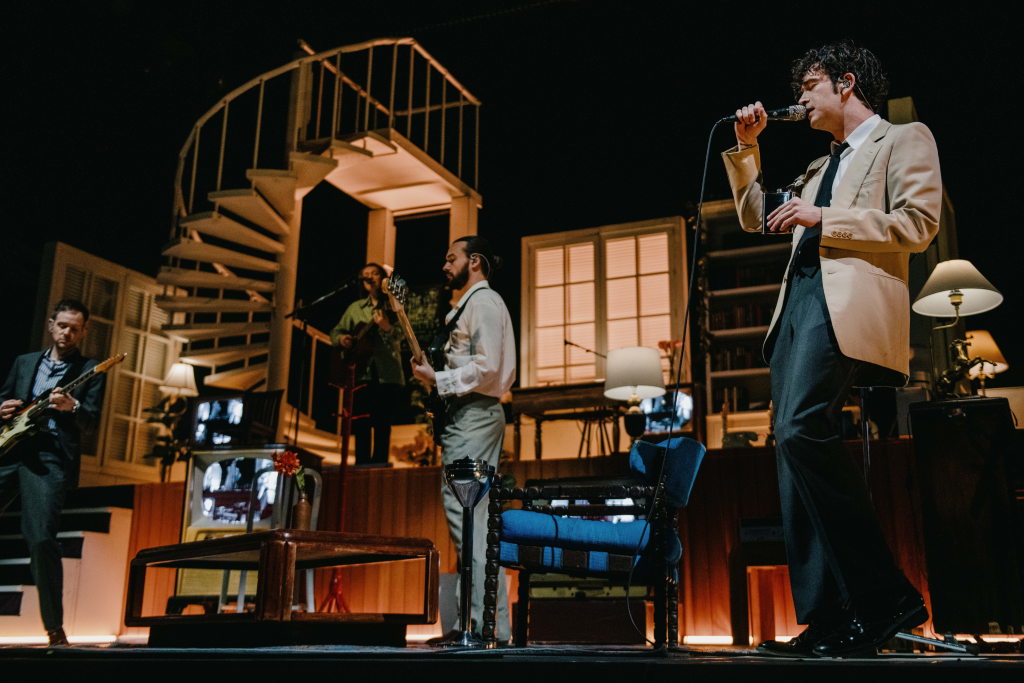 Firstly, as many fans will know from the widely shared clips from live shows, the stage aesthetics are wonderfully unique and creative, depicting the kind of chilled out lounge area you'd expect to see when checking into the Tranquility Base Hotel & Casino. The 1975 have always been innovative in the production of their records, and now this is also reflected artistically in their live performances.
The show is split into two distinct sections, opening with a Being Funny In A Foreign Language tour arrangement, followed by At Their Very Best, stacked with popular hits and old favourites. The fist six tracks from the latest record are reflected in the opening six songs of the setlist, with About You and When We Are Together closing the first section after a Charlie Chaplin cover (Smile), Sincerity is Scary, fallingforyou, and I Like America & America Likes Me. Manchester was also treated to the infamous raw meat 'consumption' segment, which followed Healy's questionable antics on the couch (if you know, you know).
As if he hadn't been eating enough, Matty was also delivered a Greggs, as a sausage roll was thrown onto the stage by a fan. Clearly not as tasty as the slab of meat Healy has been feasting upon like a scene from the tiger enclosure at Chester Zoo, he takes just one bite and moves on with the show, re-assured by the crowd that it hadn't been tampered with…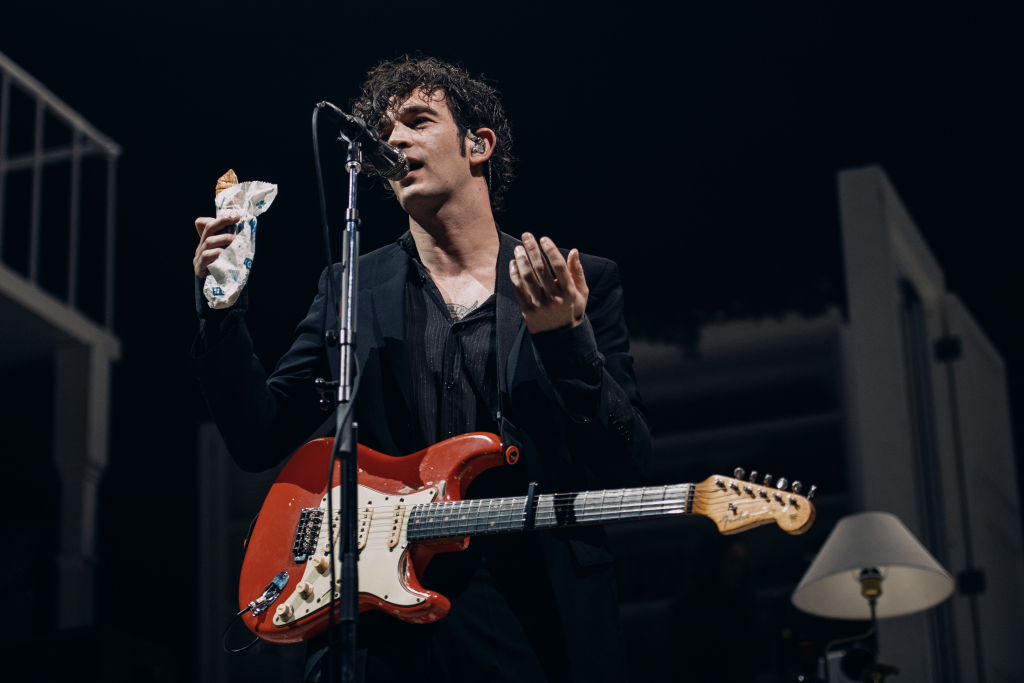 Taylor Swift joined the band on stage in London, and rumours had been circling about a potential Harry Styles cameo in Manchester. However, it was the wonderfully talented pop sensation, Charli XCX, who entered stage between the two sections of the show. Fans were treated to a performance of Vroom Vroom, before the At Their Very Best segment commenced.
The final section of the show saw The 1975 come into their own, playing hits from their extensive back catalogue such as Chocolate, If You're Too Shy (Let Me Know), It's Not Living (If It's Not With You), and The Sound. Fan favourite, Robbers, and Somebody Else brought the feels to the sold out AO Arena, and fans were treated to the viral "menthol" section of TOOTIMETOOTIMETOOTIME, much to the satisfaction of the crowd.
One of the highlights of the show was the unexpected run-out for Menswear, a tour debut and firm favourite from the band's early days. The set was closed off with popular hits, Sex and Give Yourself A Try, unsurprisingly creating a special energy from both the band and the crowd, a result of this unique bond between the Wilsmlow four-piece and their army of loyal fans.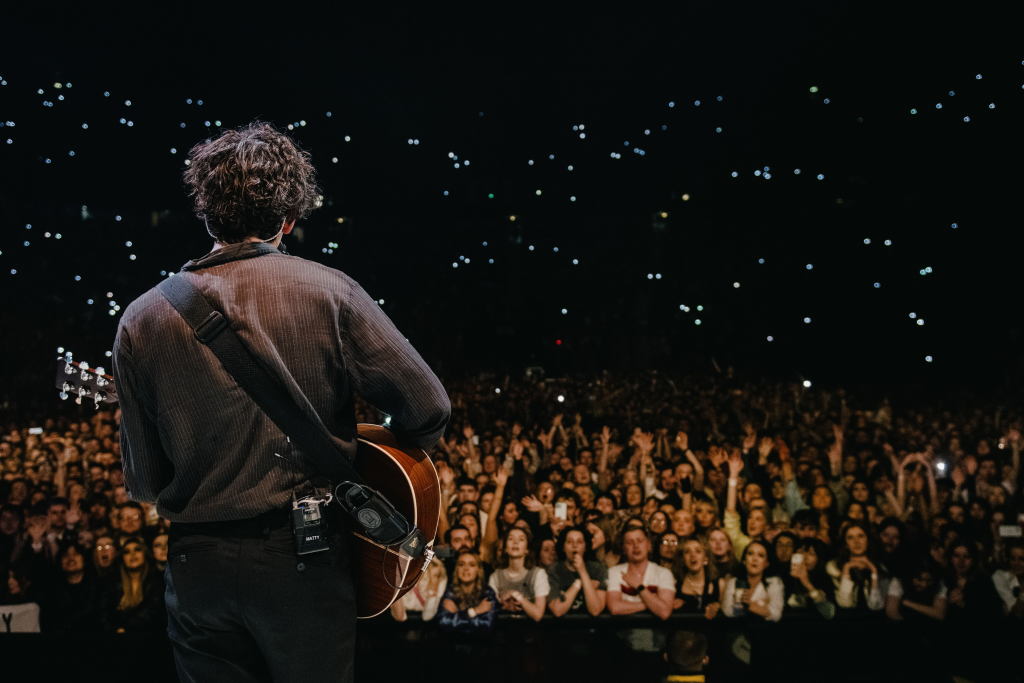 The 1975 and Matty Healy may not be to everybody's tastes and regularly come in for unfair criticism, but the Manchester show and arena tour as a whole has showcased why this band deserves every success on the global stage.
As a frontman, Healy's showmanship and talent as a musician and performer is clear for all to see. Combine this with the creative minds that The 1975 possess in-house, and there is good reason they are now major festival headliners and heavily rumoured for that coveted Pyramid Stage headline slot.
If you haven't already, they are undoubtedly one of the UK's must-see bands right now. And if you are heading to any of the remaining dates, you are in for a treat!
…
Follow us on our socials:
"If you could go out for a drink with any three musicians, past or present, who would you choose and why?" – That's what we ask our guests on the Fantasy Pints Podcast! Seasons 1 & 2 are available now. You can check out all episodes on Spotify, Apple and YouTube, including interviews with DMA's, Clint Boon, Robbie Knox, The Wombats, Jamie Webster, Clinton Baptiste, Scheiffer Bates, Omid Djalili and plenty more!