My Chemical Romance are returning to the UK next year, with three eagerly anticipated shows at Stadium MK in Milton Keynes already sold out. Now, the US rock band have confirmed a huge date at Victoria Park in Warrington, the home of Neighbourhood Weekender!
The gig will take place the night before Warrington's popular weekend indie festival, on Friday 27th May, 2022. It will follow the MK dates and two 'Eden Sessions' shows, which will be MCR's first UK performances since 2011!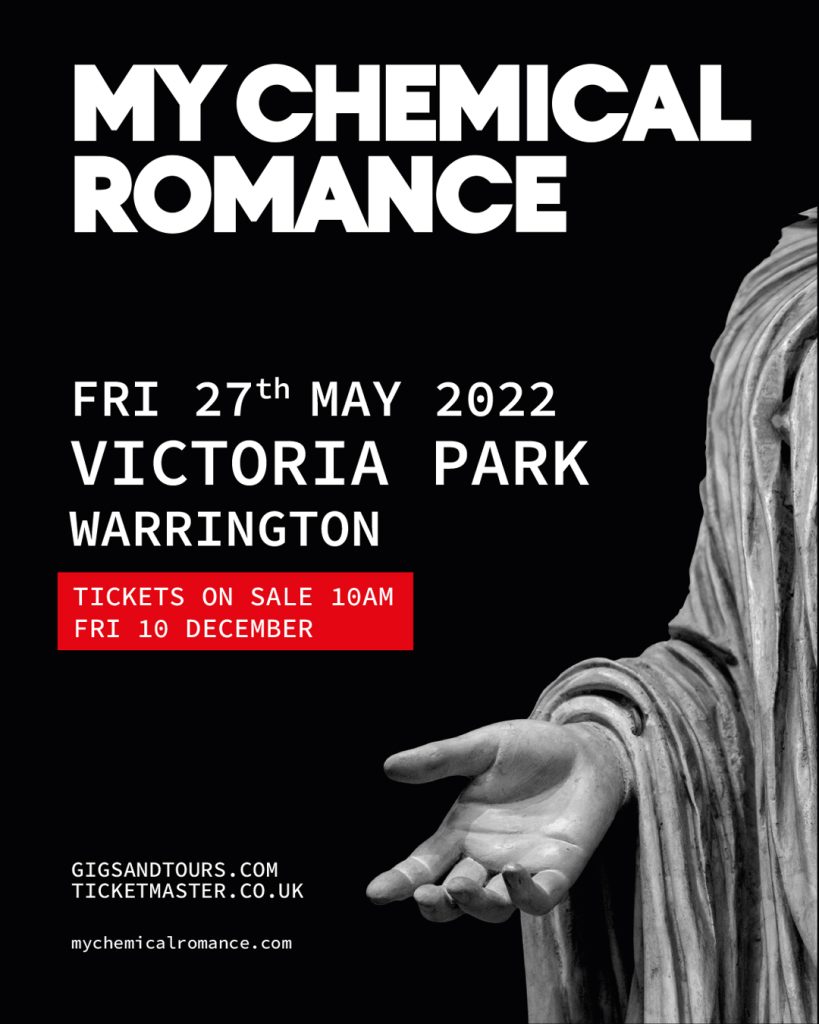 Residents of postcodes WA1, WA2, WA3, WA4 and WA5 will receive access to a special pre-sale, which goes live at 10am on Thursday 9th December via http://gigst.rs/MCRwps. Tickets go on sale from 10am on Friday 10th December from http://gigst.rs/MCRwgtn.
The band will also play in Cardiff, Glasgow and Dublin next year, with full dates listed below.
 
MCR 2022 UK TOUR DATES
16 May – Eden Sessions
17 May – Eden Sessions
19 May – Milton Keynes SOLD OUT
21 May – Milton Keynes SOLD OUT
22 May – Milton Keynes SOLD OUT
24 May – Dublin
27 May – Warrington
28 May – Cardiff
30 May – Glasgow
…
Follow us on our socials:
…
If you haven't already, make sure you check out our Fantasy Pints Podcast, where we interview a different guest each week and ask the one common question – "if you could go for a drink with any three musicians past or present, who would you choose any why?" Check out the latest episode with DMA's on Spotify, Apple, YouTube & more!