The Sherlocks have announced an intimate 15-date UK tour entitled 'Keep Our Independent Venues Alive'. The intention is to support grassroots venues that have struggled during the pandemic, re-visiting some of the venues they performed at in the early stages of their career to recognise the much needed platform they provide for up and coming artists.
Support for each date will come from local, independent artists, with the tour also seeing The Sherlocks partnering with 'Independent Venue Week' (IVW). IVW organises gigs and events over the course of a 7 day period annually, to raise awareness for these crucial grassroots music venues.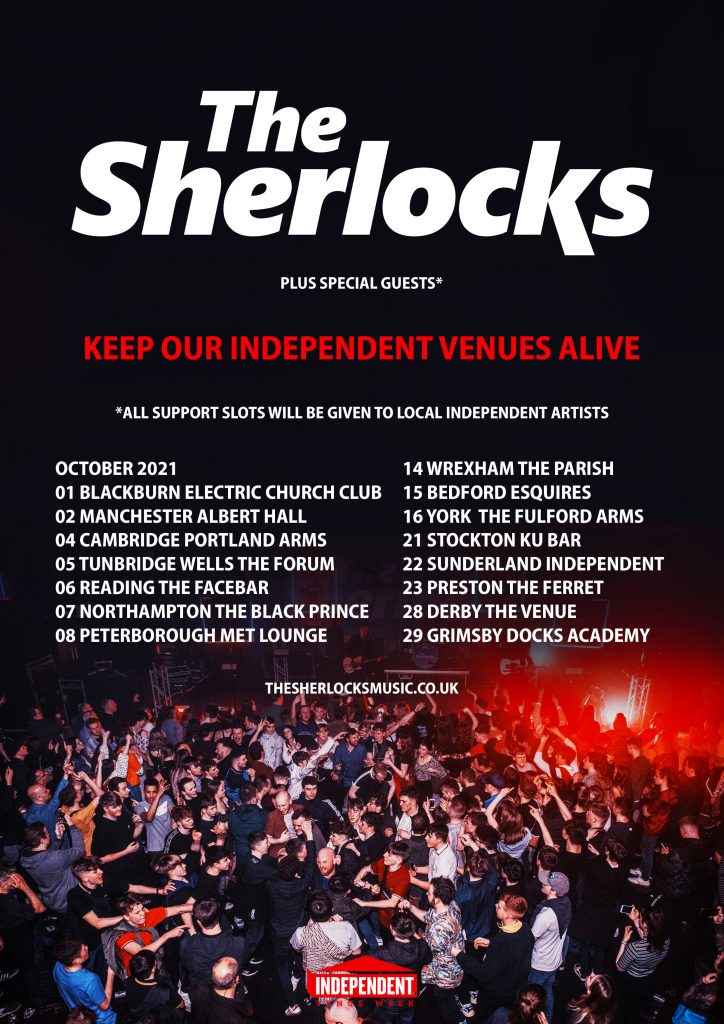 Frontman, Kiaran Crook says: "We've had so many amazing memories at independent venues. One that stands out is our first ever headline gig in Manchester at Kraak Gallery. It holds about 100 people and when it gets to the night of the show it feels like a phone box in there! There was people jumping on the stage, crowd surfing to the back of the room and beer flying everywhere! We as a band have aimed to bring that level of energy to every show since."
Charlie Rickard, Director of Production at IVW, commented: "We're delighted to have The Sherlocks doing a IVW Tour in October ahead of IVW 2022. It is imperative not only for the venues but the local the community that have been so desperate to feel that energy and buzz that only rooms of a certain size can create. It's wonderful to see the band going back to their roots."
Tickets for the tour will go on sale at 9am Friday June 18th. For more information on The Sherlocks, head to https://www.thesherlocksmusic.co.uk/. More information on Independent Venue Week can be found here.
Follow us on our socials:
…
If you haven't already, make sure you check out our Fantasy Pints Podcast, where we interview a different guest each week and ask the one common question – "if you could go for a drink with any three musicians past or present, who would you choose any why?" Latest episode below!