18 year old rising star Alfie Templeman has shared details of a Spring 2022 headline tour – including his biggest show to date at the O2 Shepherds Bush Empire on March 16th.
It follows the recent announcement of mini-album Forever Isn't Long Enough, which serves as Templeman's final and most substantial body of work before recording starts on his debut album proper, and is available for pre-order HERE.
Pre-sale tour tickets will be available on Wednesday 24 March for fans who have pre-ordered the mini-album from Alfie's store or who bought tickets for his sold out Spring '21 tour which had to be rearranged due to the pandemic. General sale tickets will be available on Friday 26 March at 9am.
Alfie says: "It was a real bummer having to cancel so many sold-out shows last year and the start of this year  but now things are looking more hopeful and positive I'm extremely excited to announce that we're playing our biggest shows yet in the spring of 2022. It's going to be really magical being together and celebrating with music, so grab a ticket and I'll see you at a show! Alf x".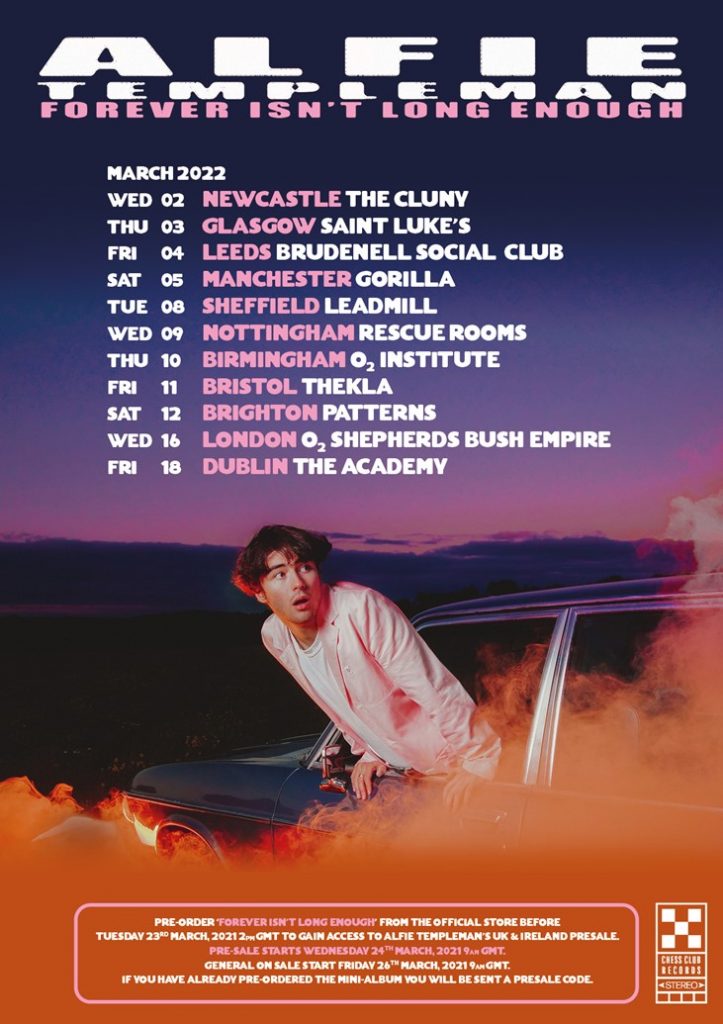 Don't forget, for the latest updates on new shows and ticket releases, head to Find Shows Near Me.
…
Do you want to write for Northern Chorus? Read more on the following link and get in touch!
https://www.northernchorus.co.uk/2021/02/18/contributors-we-need-you/
…
Follow us on our socials: